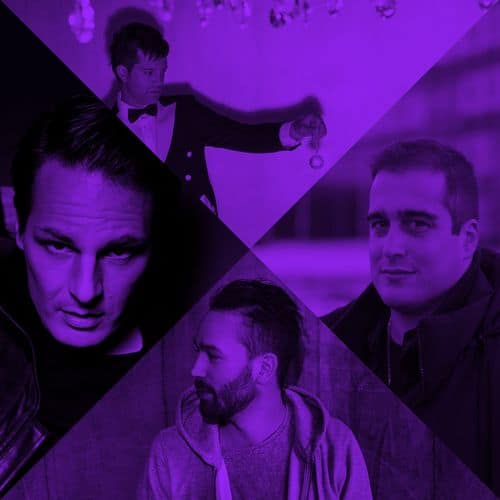 BY OCCUPY THE DISCO / JOSH APPELBAUM
The OXD Mirror is a weekly music column brought to you by the boys of OCCUPY THE DISCO (OXD), a New York City based movement created by three music lovers, Ru Bhatt, Josh Appelbaum, and Tadeu Magalhães, who want to share their love for disco, house and dance music with the world.
Mayer Hawthorne: 'Her Favorite Song (Oliver Remix)'
After Daft Punk's 'Get Lucky' lit up the charts internationally, many deemed 2013 to be the summer of Yacht Rock.  There certainly has been no shortage of songs that would fall under that genre, and Oliver's remix of Mayer Hawthorne's 'Her Favorite Song' classifies as such.  L.A.-based soul singer Hawthorne is prepping for the July 16th release of his third full-length album Where Does This Door Go, which not-so-coincidentally features a collaboration with 'Get Lucky' vocalist Pharrell Williams.  Hawthorne cut his teeth in the music world by starting as a club DJ in Michigan, and parlayed that dance floor sensibility into his own singing and songwriting.  I hope to hear more of this soul-meets-dancefloor vibe on the new album.
Joe Goddard & Boris Dlugosch: 'Step Together'
Both Boris Dlugosch and Joe Goddard of Hot Chip have been on a roll lately.  Dlugosch reunited with Irish chanteuse Roisin Murphy 12 years after their famed collaboration 'Never Enough' to release 'Look Around You', a sultry deep house song that's been on repeat for me all summer.  Goddard also teamed up with Osbourne for the excellent midtempo track 'Hold Up'.  Together, the two producers have made a lush, upbeat, piano-laden house track called 'Step Together', which falls nothing short of spectacular.  
Golf Clap: 'Waiting'
Bryan Jones & Hugh Cleal had been touring around DJing their slick, deep house music until officially becoming the group Golf Clap in early 2013.  They've quickly come to be known by hit tracks like 'Another Way' (which I featured on here back in February) and 'On To You'.  The Detroit-based duo has big plans to release some EPs as well as remixes, and they continue to bring a string of excellent mixtapes through their Soundcloud.  'Waiting', a single available for free download, is a summery deep house song that samples Cassie's 'Me And U' and is perfect for hot summer days.
MORE NEW MUSIC, AFTER THE JUMP…
Jonas Rathsman: 'Yes I Am'
In line with the previous warm-weather-inspired tracks of this week's column, tropical house producer Jonas Rathsman's new single 'Yes I Am' just made it to my summer playlist.  With tracks like 'Tobago' and 'Since I Don't Have You,' the Swedish producer made it to fame as part of the French Express label run by fellow tropical house producer Perseus.  'Yes I Am' is beautiful in its simplicity, with even the faint sound of seagulls used in the background to evoke a mood that Rathsman had distinctly made a part of his namesake.
Patterns: 'Sunny Days (Fred Falke Remix)'
After having listened to Fred Falke's remixes and original productions for the past 9 years, I have yet to find one production of his that I haven't liked.  He has remixed scores of artists popular with with the gay community like Lana del Rey, Robyn, Katy Perry, Kelis, Robbie Williams and Jamiroquai, so I think it's fair to say Falke shares a musical sensibility not far off from ours. His upbeat, groovy, disco-inspired production never fails to take a song to that next level.  Dance-pop newcomers Patterns' first single 'Sunny Days' is no exception to that, with Falke's signature synths and pounding basslines giving the song the added boost to help these newbies make a splash in the music world. 
We are on Spotify!  Subscribe to our 'As Featured on Towleroad' Playlist to listen to tracks posted from past weeks.
For more information on OXD, check out our website and accompanying blog at www.occupythedisco.com, like us on Facebook, or follow us on Twitter: @OccupyTheDisco