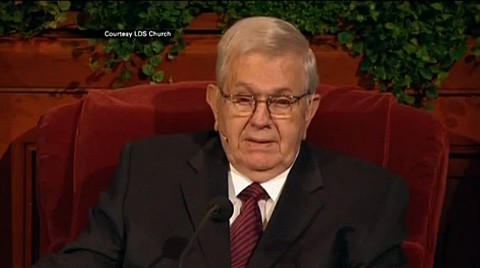 A Weber State University professor suspects that the school's decision to not rehire him was because he spoke out against the naming of a new family center after Mormon apostle Boyd K. Packer (above).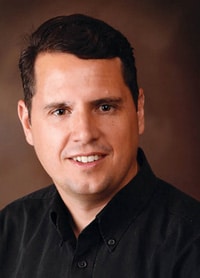 Earlier this month, the Salt Lake Tribune reported:
Jared Lisonbee, an assistant professor of child and family studies, said he got a letter "out of the blue" last week stating his employment would be terminated at the end of the 2013-14 academic year. He spoke against the decision at a faculty meeting in late 2012.
Lisonbee had spoken up at a faculty meeting:
"I said, 'I really don't think this is a good idea. I don't think it represents the diversity of families the center will be serving,'" he said.
He also outlined his concerns in an email to Jack Rasmussen, dean of the College of Education, who acknowledged the issue to Lisonbee but kept the name.
Inside Higher Ed follows up:
Following his public objections to the name, including an e-mail to Jack Rasmussen, dean of the Jerry Vickie Moyes College of Education, Lisonbee said Paul Schvaneveldt, department chair, singled him out for criticism. During his third-year review, in February, Lisonbee said Schvaneveldt responded to the assistant professor's comments about the at-times pervasive Mormon influence on the culture of the university and department by saying, "Well, you know, Weber State isn't a good match for everyone." And at the college's graduation ceremony, Lisonbee said, Schvaneveldt accused him of leaving early when he had temporarily stepped to the side of the stage to greet students.
Lisonbee said a letter from his wife published in a local paper after the formal naming of the center in May also may have harmed his chances at Weber.
"Naming a public university's program to support families after Packer is a slap in the face for many in the community, given positions advocated by Packer," Shairylann Lisonbee wrote in her letter, which inspired an online petition that's gained more than 2,600 signatures against the naming of the center. The Utah Stonewall Democrats, a group supportive of gay rights, also protested the naming of the center following the letter's publication.
"While I cannot be certain, with the letter informing me of the decision not to renew my contract coming so close in the wake of the negative publicity associated with the letter to the editor, I suspect that the letter to the editor did contribute to the decision," said Lisonbee.