After being denied a marriage license earlier this month, a gay couple from Virginia has now filed a federal lawsuit that challenges that state's ban on same-sex marriage. The suit is a first of its kind and follows an announcement from the American Civil Liberties Union of Virginia who are currently preparing a similar lawsuit.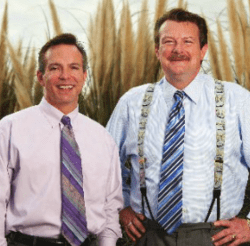 Voters in Virginia approved an amendment to ban same-sex marriage in 2006. The two men, Tony London and Timothy Bostic, have been together since 1989.
The Virginian-Pilot reports:
"They thought about getting married in another state, but decided against it," said Robert Ruloff, an attorney for London, a Norfolk real estate agent, and Bostic, an Old Dominion University assistant professor of English. "They are Virginians and they want to be married in Virginia."

Of course the wingnuts have already responded:

Chris Freund, a spokesman for the Family Foundation, a conservative nonprofit based in Richmond, said he was not surprised by the lawsuit. He said the plaintiffs are trying to circumvent "the will of the people."

"They know they can't win at the legislature and they probably can't win at the ballot box, so they are trying to find a judge or some judges to overturn the will of Virginians," Freund said.
Earlier this week (actually on the day this lawsuit was filed) Andy posted an item about a new Quinnipiac poll which revealed 50 percent of Virginians support same-sex marriage and 43 percent oppose it.