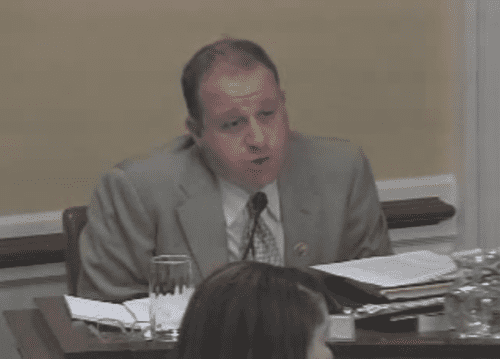 Several House lawmakers took time to show their support for a measure to be considered alongside the Student Success Act.  Called the Student Non-Discrimination Act, the piece of legislature was considered during a House Rules Committee hearing for the Success Act.  Gay representative Jared Polis (D-Colo.) led the charge for the new amendment.
During the rules committee hearing, Polis said the Student Non-Discrimination Act is necessary — even with other options on the table like school of choice — because some students have only one choice for a school in certain places in the country.
"If you come from a small town with a thousand families, you have a school, you go there, and it's tough," Polis said. "It might be tough to grow up if you're the only African-American family in town, it might be tough to grow up if you're the only gay kid in town, it might be tough to grow up if you're the only Catholic in town, or the only Muslim or the only Jew in town."
Polis's proposal for the amendment was voted down 5-7, based largely on the Republican-controlled panel.  
The only Republican in committee to vote in favor of the proposal was Rep. Ileana Ros-Lehtinen (R-Fla.), who's an original co-sponsor of the legislation and also spoke out in favor of the bill in committee. She's among 155 co-sponsors of the bill in the House.
"Through the years, we have seen a lot of bullying taking place at our schools, and LGBT students are particularly vulnerable to education and harassment in our education system," Ros-Lehtinen said. "They currently lack the protections that would prohibit this dreadful behavior."
The Student Non-Discrimination Act, should it have been approved, would establish gender identity and sexual orientation as protected classes in schools, and would not allow discrimination, including bullying, to befall students without repercussions.  
The next day on the House floor, a number of lawmakers joined Polis in speaking out in favor of the Student Non-Discrimination Act, including Reps. Rob Andrews (D-N.J.), Barbara Lee (D-Calif.) and David Cicilline (D-R.I.).
"The federal government has a responsibility, Mr. Speaker, to do all that we can do to ensure the safest and best possible environment in which students can learn," Cicilline said. "When students are bullied and harassed because of who they are, they're denied the opportunity to achieve their full potential."
Despite these objections, the House approved on Friday the education reform bill by a vote of 221-207 after two days of debate. In a statement after the bill's passage, House Speaker John Boehner (R-Ohio) praised the legislation for consolidating federal programs and eliminating red tape for schools.
Check out videos of several representatives' statements here.
And watch a portion of Rep. Polis's proposal, AFTER THE JUMP…