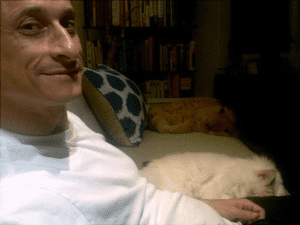 Former Congressman and current New York City mayoral candidate Anthony Weiner found himself at the center of even more phallocentric controversy early Tuesday upon the revelation of new images depicting racy online conversations between him and another younger woman. 
Weiner acknowledged his transgressions in an impromptu news conference in New York City. He admitted to sending explicit text and picture messages to multiple women, and did so for more than a year after leaving Congress disgraced for engaging in the very same behavior. Weiner did not delve into any specifics as to the amount or frequency of such exchanges, or the identity of any of the women he messaged. Instead, he offered this vague explanation in a statement:
"I said that other texts and photos were likely to come out, and today they have. As I have said in the past, these things that I did were wrong and hurtful to my wife and caused us to go through challenges in our marriage that extended past my resignation from Congress. While some things that have been posted today are true and some are not, there is no question that what I did was wrong. This behavior is behind me."
The New York Times, in their report of the events, made sure to mention that…
"The revelation collides with the narrative Mr. Weiner has offered throughout the campaign, in which he has repeatedly suggested that he has spent his time since leaving Congress rehabilitating himself and repairing his family relationships."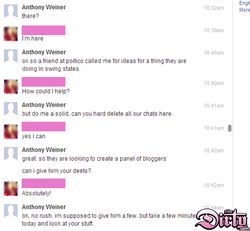 The images in question first appeared on the gossip site "The Dirty", which offers a disclaimer at the bottom that "the content that is published contains rumors, speculation, assumptions, opinions, and factual information. Postings may contain erroneous or inaccurate information." The site's publisher, Nik Richie, did defend the authenticity of his post, saying that:
"My source is solid. She really thought Anthony Weiner and her were in love, they spoke on the phone daily multiple times a day for 6 months. Anthony Weiner played with her emotions and mind. Most calls were phone sex. He promised her many things including a condo in Chicago (1235 S. Prairie Ave) where they were planning to meet up to have sex. Anthony Weiner has a shoe fetish, particularly heels."
Said images depict Weiner interacting with a woman whose username and avatar are blurred out, and depict Weiner interacting under both his real name and the pseudonym "Carlos Danger". At certain points in their exchanges, Weiner expressed that he was "deeply flawed", and asked her to "do me a solid. Could you hard delete all our chats." Buzzfeed also pointed out that "Weiner's blank avatar in one chat matches his blank avatar in images posted by Radar Online during the 2011 scandal that ended his congressional career." Buzzfeed was also among the first to begin circulating The Dirty's story and images, as well as identify the woman with whom Weiner had been interacting in the photos.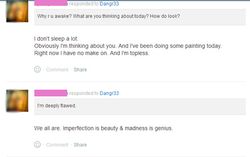 Weiner's rivals in the mayoral campaign have already called for him to resign. Democray Bill de Blasio told The New York Times, "Enough is enough…His presence in this race continues to diminish the debate, and it's time for his presence in this race to end." The National Organization for Women echoed de Blasio's sentiment, calling him "clearly and compellingly unfit for public office." Thus far, Weiner has not expressed any desire to drop out of the mayoral race. Furthermore, Weiner's wife, Huma Abedin, expressed her support at his press conference, telling the press,
"Anthony's made some horrible mistakes, both before he resigned from Congress and after. We discussed all of this before Anthony decided he would run for mayor, so really what I want to say is, I love him, I have forgiven him, I believe in him." 
There is no doubt that Weiner's willpower and integrity will be put to the test once again, as further investigation will likely uncover even more details of Weiner's encounters. News and gossip blogs are already asking anyone with relevant information to come forward. Nik Richie, who has already referred to Weiner as a "sexual predator luring his victims", gave this addition to the end of his original post on The Dirty:
"I know my source wasn't the only girl he lured online (poked). Ladies if you exchanged sexual pictures with Anthony Weiner aka Carlos Danger please come forward."
All images of the chats posted on this page are courtesy of TheDirty.com