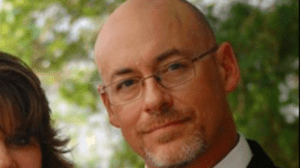 Dean Young is one of nine Republican candidates looking to replace veteran Republican Representative Jo Bonner in Alabama's First Congressional District. So what does a conservative candidate have to do to distinguish himself from the eight other candidates vying for the same spot?
If you're Young, you try to appear more conservative than all of the others, and then encourage all of the other candidates to follow your lead. That's precisely why he introduced the "Pledge to Oppose Gay Marriage", a six-point pledge that mandates each candidate to affirm:
"1. I believe that the only marriage is between one man and one woman.

"2. I believe the Biblical condemnation of homosexuality and thereby gay marriage.

"3. The tenants of my church oppose gay marriage.

"4. I oppose gay marriage.

"5. As a member of Congress, I shall take active steps to oppose gay marriage.

"6. I support the by-law change to expel any member of the Republican Executive Committee who opposes the party position by supporting gay marriage."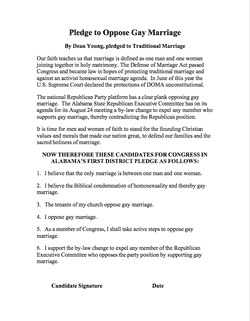 According to AL.com, Young has been circulating this pledge all week long, and drafted the pledge because he believes that homosexuality and same-sex marriage is "a corruption which seeks to destroy the concept of the family." The pledge itself reads that it is "time for men and women of faith to stand for the founding Christian values and morals that made our nation great, to defend our families and the sacred holiness of marriage."
ThinkProgress cited Article I, Section 3 of Alabama's constitution, which says outright that: "No religious test shall be required as a qualification to any office or public trust under this state; and that the civil rights, privileges, and capacities of any citizen shall not be in any manner affected by his religious principles."
While participation in the pledge is purely voluntary, Young is clearly in violation of the spirit of the state Constitution, which establishes no state religion and values each citizen's freedom to choose their faith, by "suggesting that one can only be a good representative if they are part of the right kind of church." Young, on the other hand, claims to be fighting "for the rights of the American people" on his official website.
Previously, Young has condemned the Supreme Court's decision to gut DOMA, saying that:
"We have a Supreme Court that is legislating from the bench and completely out of control, destroying the Judeo-Christian culture this nation was founded on. Marriage is between one man and one woman, no matter what the Supreme Court says."
Young is also one of two candidates in the race that include the impeachment of President Obama as part of their campaign platforms. Perhaps even more troubling is the fact that, despite his radically-conservative ideas, Young seems to be doing very well. ThinkProgress reports how the Young campaign has "garnered more than 24 percent of the vote in a 2012 primary challenge to Bonner."
"His campaign website boasts of an endorsement from Alabama Chief Justice Roy Moore, who was unanimously removed by his fellow judges during a previous term for failure to comply with a court order to remove an unconstitutional display of the Ten Commandments monument from the state's judicial building. Young currently leads the 2013 contenders in reported cash-on-hand thanks to more than $129,000 in self-financing."