Konstantin Altunin, the Russian artist who made headlines this week after his gallery was shut down and paintings depicting Vladimir Putin and PM Dmitry Medvedev in lingerie were seized, has fled Russia and is seeking asylum in France, Radio Free Europe reports: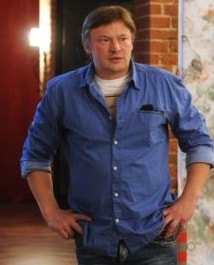 In a telephone interview from Paris, Altunin said he does not want to return to Russia.
"Today, I appealed to the French prefecture in Paris because I have no other [option]. I would gladly get [local residence and work permits] so that I can be useful to France and to work and pay taxes," he said. "But now, I am forced to request political asylum because I fled very quickly without luggage or money."
Altunin says that the gallery's organizers have been arrested:
"The organizers have been arrested, although they have nothing to do with this as it is I who is to blame," Altunin said. "They detained them until 3 o'clock at night, then took them to a police station. There was a young woman among them and they were practically bullying her. What is this?"
Altunin said he had already fled when the police arrived at his apartment to arrest him. He has a wife and  a two-year-old daughter at home:
"My wife is in tears and my 2-year-old child keeps asking where daddy is," he said. "What kind of PR can we talk about here? Of course, deputies simply have nothing better to do than close exhibits and confiscate pictures. This needs no further comment, really. Such a situation is possible only in Russia." 
The seized paintings also featured the head of the Russian Orthodox Church covered in tattoos, and Vitaly Milonov, co-author of Russia's bill banning gay propaganda, together with a rainbow flag.
Check out the Putin/Medvedev painting below: