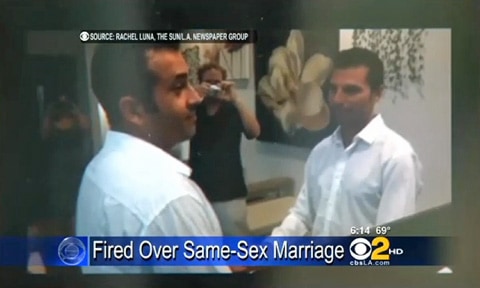 Ken Bencomo, a teacher at St. Lucy's Priory High School, an all-girls Catholic school in Glendora, California, was fired a week after news of his marriage to his longtime partner Christopher Persky was published in local papers, CBS Los Angeles reports:
Patrick McGarrigle, the attorney, said the school only fired Bencomo for getting wed.
"Their reasoning was that he had gotten married and it was in the papers. The school's position was that it violated its teachings," says McGarrigle.
School administrators declined to discuss the firing on camera. But they did issue a statement that read, in part, "We respect and protect privacy interests and, to be respectful of those involved, the school does not comment on confidential matters. St. Lucy's wishes to reassure all in our community that upholding its mission to educate students in the tradition of the Catholic faith is of paramount importance."
Bencomo has taught at St. Lucy's for 17 years. The school knew he was gay. It was simply the marriage that got him fired.
Watch, AFTER THE JUMP…