Chris Christie's government has filed a brief in a case challenging the state's civil union law, urging a New Jersey judge to not hastily grant marriage equality, the AP reports: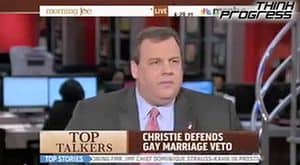 The state says gay rights advocates may be misinterpreting details of a U.S. Supreme Court ruling in their push to get gay marriage recognized in New Jersey, that the issue is not ready to be decided yet and that a quick ruling would be inappropriate.
"Plaintiffs, by virtue of their summary judgment motion, seek to side-step the Supreme Court mandate concerning the need for a factual record," the state Attorney General's Office says in its brief.
The filing Friday is the first legal word from the administration of Gov. Chris Christie in a legal tactic that flows directly from a June U.S. Supreme Court decision that invalidates the key components of the federal Defense of Marriage Act, which had prohibited the federal government from recognizing same-sex nuptials.
The judge is set to hear arguments on the case on August 15 and the state wants a full trial in order to buy time:
In its brief, the state says it believes the federal ruling will give couples in civil unions federal marriage benefits even if they live in states where they are not recognized as married. The state notes that some federal agencies are considering extending protections to non-married gay couples. The state also argues that New Jersey courts should show caution because there's a dispute over the question.