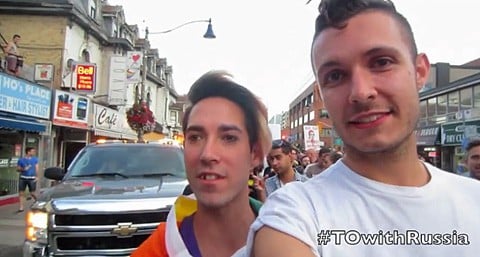 A large march took place in Toronto over the weekend to protest Russia's ban on "gay propaganda", the Toronto Star reports:
Hundreds of people marched Saturday towards the Russian consulate on Bloor St. waving rainbow flags and carrying signs to protest Russia's anti-gay laws, which the LGBTQ community is calling an attack on human rights. The march began in the Church St. and Wellesley St. E. area around 7:30 p.m. and protesters were encouraged to bring pots, pans and wear sports gear to acknowledge that the winter Olympics will be hosted in Sochi in 2014.
Canadian vlogger Michael Reynes and his friend David went to march in the protest and recorded a video of the march and talked about their experience.
Watch it, AFTER THE JUMP…