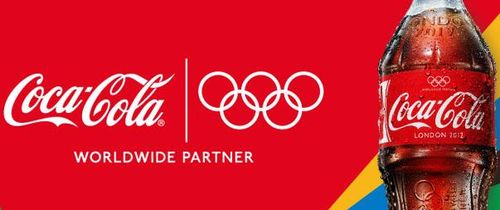 As one of the biggest corporate sponsors of the International Olympic Committee and the extremely controversial Winter Olympic Games in Sochi, Coca-Cola has been experiencing some bad press as of late with the LGBT community. Earlier today, members of the group Queer Nation, joined by members of other LGBT advocacy organizations, protested Coke in Times Square by dumping the cola down city drains. As a response to the recent controversy, Coke issued a response on its official website, saying:
"As one of the world's most inclusive brands, we value and celebrate diversity.  We have long been a strong supporter of the LGBT community and have advocated for inclusion and diversity through both our policies and practices. We do not condone human rights abuses, intolerance or discrimination of any kind anywhere in the world."
The company defends its sponsorship of the IOC and Olympic Games, saying that it has seen the games act as a tool to spread good and the Olympics' core values, "excellence, friendship and respect," across the globe. They also list their own credentials in terms of LGBT inclusiveness, which are as follows:
"We have a long-standing HR policy protecting our employees from discrimination based on sexual orientation and gender identity and expression."
"We have a Global Mutual Respect Policy that sets out our expectations for how employees should treat one another as well as anyone they interact with as a representative of the Company.  The policy outlines our commitment to valuing diversity and inclusion and providing a workplace free of discrimination or  harassment. You can read more about this at:  http://www.coca-colacompany.com/our-company/global-mutual-respect-policy"
"We have scored 100 percent on the Human Rights Campaign's Corporate Equality Index every year since it was launched in 2006."
"We have had an LGBT Business Resource Group at the Company for 13 years that is funded and supported through the Chief Diversity Officer's department."
"We were one of the first companies in the U.S. to publicly support the Employment Non-Discrimination Act to protect employees from discrimination due to sexual orientation."
"We have provided financial support and significant Company presence to several LGBT events over the past several years, including numerous Pride festivals and parades across the country."
"Our Global Supplier Diversity team participates in outreach events such as the National Gay & Lesbian Chamber of Commerce (NGLCC) Awards Dinner, the NGLCC Business and Leadership Conference, and the Atlanta Gay and Lesbian Chamber of Commerce Corporate Sponsors Reception."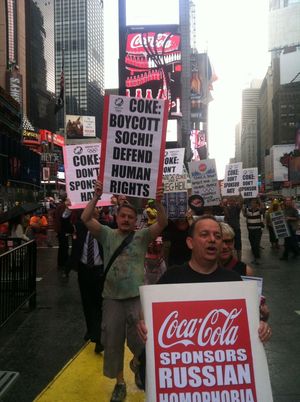 Before you dismiss the company's statement as simply a re-hashing of the same statement made to Buzzfeed earlier, know that this new declaration includes two key sentences:
"We are engaging with the International Olympic Committee on this important matter. We believe a more positive impact can be made through continued involvement, rather than by sitting on the sidelines."
This marks the first indication by Coke that it has any intention of holding the IOC responsible for defending LGBT and human rights in Russia. Previously, GE was the only Olympics sponsor to express a similar sentiment. One could still argue that Coke's vague wording does not technically commit them to any concrete action. Nevertheless, it still represents a change (a small one, but a change) on the part of the beverage conglomerate.
Presently, none of the organizations protesting Coke have issued a response to the company's statement. Given that said groups provided Coke with a list of demands that still currently remain unmet, though, it is not likely that their stance will change very much or at all. 
(photo by scott wooledge)