During the U.S. Open, six female Russian tennis players were asked about Russia's anti-gay laws in interviews, and all either plead ignorance about the laws' existence or chose to keep silent, USA Today reports.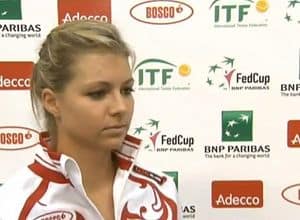 Maria Kirilenko (pictured) claimed, "I didn't hear anything about it," while Anastasia Pavlyuchenkova said "I have my own opinion about this but I don't know if I should comment."
Nadia Petrova and 2004 U.S. Open winner Svetlana Kuznetsova were the only ones who offered some degree of support, Kuznetsova saying, "You can be whoever you want to be as long as you're happy," and making the astute observation that, "In Russia if you don't support Putin you are in big, big trouble."
Both men's and women's tours go to Russia for tournaments after the U.S. Open, and just as with the Sochi Olympics, any gay tennis players and fans will have to keep their orientation and condemnation of the law under wraps to avoid arrest and prosecution under Russian law.