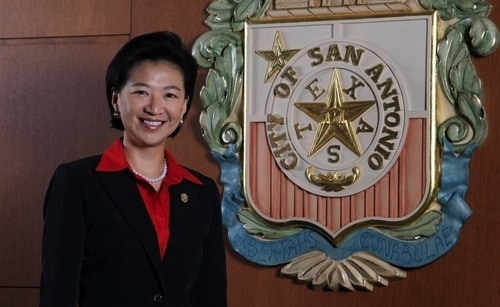 San Antonio Councilwoman Elisa Chan is under pressure to resign – this after she was recorded making many anti-gay comments in which she called gays and lesbians "disgusting."
A former aide, James Stevens, secretly recorded audio from a meeting with city officials in which they discussed a possible update to the city's nondiscrimination ordinance to protect sexual orientation and gender identity. Chan is rumored to be contender for the mayorship in 2015.
The recording was made available to the San Antonio Express-News, which has included some of the more offensive soundbites in an article published earlier this week. A full transcript is here. Listen to the audio, AFTER THE JUMP.
"This is my philosophy, guys," she says. "Whatever you want to do in your bedroom is none of my business, but do not impose your view on other people, especially becoming policy … because personally, I think it's just disgusting just to even think about.
Chan reveals that she does not support adoption by gays and lesbians:
"By the way, this is politically incorrect," she tells her aides. "I don't think homosexual people should do adoption. They should be banned by adoption. You're going to confuse those kids. They should be banned.

"If you wanted to choose that lifestyle, we don't want to discriminate you, but you shouldn't affect the young people," she continues…It's confusing…I'm telling you, anything that is against nature is not right."
She also claims that being gay is a choice:
"You know, to be quite honest, I know this is not politically correct," she says. "I never bought in that you are born, that you are born gay. I can't imagine it."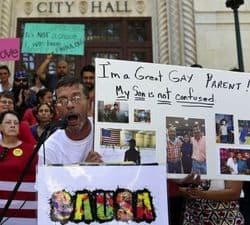 Stevens explained why he chose to record the meeting: "We spent 80 percent of that meeting talking about how disgusting homosexuality is…My decision to record in the first place was that, during the staff meetings, we weren't really discussing the ordinance itself."
Yesterday, demonstrators took to San Antonio city hall to speak out about Chan's comments.
Many LGBT groups and San Antonio officials have called for Chan to resign, including Mayor Julián Castro who said "it was also astounding how misinformed and downright ignorant a lot of that conversation was."
The mayor added: "Some folks have wondered whether an update to the ordinance is necessary. This is a strong example of why it is necessary."
Chan has declined to comment.
Listen to audio from the meeting, AFTER THE JUMP.