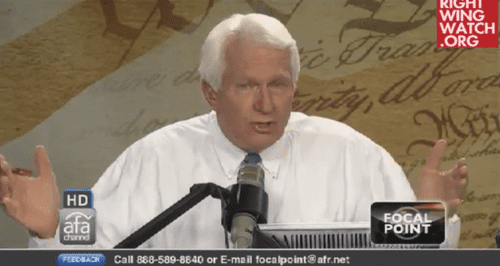 For Towleroad readers, the AFA's Bryan Fischer is the homophobic gift that keeps on giving. Any time there's a controversy surrounding gay people…be it human rights violations in Russia, homophobic politicians, or futile attempts to revive anti-gay laws, we can always count on Fischer to spew ignorant and hateful vitriol. 
But we'd like you all to know that Fischer is more than just a homophobe. He's also a vocal and blatant misogynist. His most recent brush with sexism came earlier this week on his radio show, where he dismissed the possibility of a Hillary Clinton presidency simply because of what she might look like in three years:
"She's just going to be too old, going to be too saggy, gravity will have done too much of its mojo on her; she's just going to look old and tired next to virtually anybody that the Republicans run out there."
We're not exactly sure what's most problematic about his so-called "logic". Maybe it's the fact that Fischer doesn't seem at all concerned with his own sagginess…
Judge his comments for yourself, thanks to Right Wing Watch … AFTER THE JUMP…