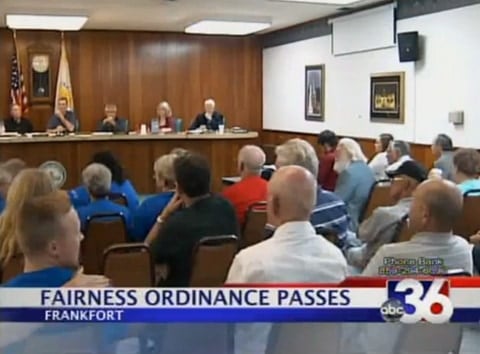 The Frankfort City Commission has passed an LGBT non-discrimination ordinance, WHAS reports:
It took eight months of going back and forth for the city of Frankfort to pass the ordinance Thursday morning.
"If they want to do it that's fine but don't endorse it," an opponent said.
You could cut tension with a knife at city hall. The Frankfort Board of Commissioners voted 3 to 2 in favor of a new city law banning discrimination based on sexual orientation or gender identity, but not without a fight.
"The Bible speaks plainly that homosexual is wrong. There ain't no if or and or but about it," Dale Wethington who opposes the fairness law said.
Chuck Queen, minister at Immanuel Baptist Church, said: "People like you and me wrote the Bible and it has conflicting faith theologies. We have to use reason and common sense for a spirit of compassion."
The ordinance does allow for exceptions including churches and organizations with sincerely held religious beliefs. However, the law allows a person to file a formal complaint with the Frankfort Human Rights Commission if they face prejudice in housing, employment and public accommodations based on sexual orientation or identity.
Watch WTVQ's and WHAS's report on the measure's passage, AFTER THE JUMP…