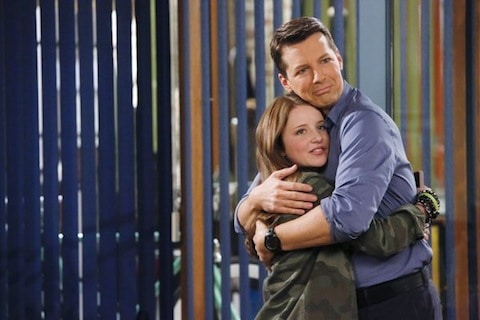 When you flip on your television this fall, you'll encounter significantly less LGBT characters than last season. After a record-setting 2012-2013 season in terms on LGBT representation on television, many of last year's prominent series featuring gay characters — including Happy Endings, The New Normal, Smash, Partners and Southland — will not be returning.
Despite those losses, there are still exciting LGBT stories being told on new and returning programs. We've collected eight of the most buzzed-about comedies, dramas and reality programs showcasing LGBT personalities this fall. 
Check them out AFTER THE JUMP…
Sean Saves The World (premieres Oct. 3 on NBC)
Sean Hayes (Will & Grace, Smash) stars as the divorced, gay dad whose 14-year-old daughter is moving in full-time in this multi-camera comedy. He'll also be contending with a demanding boss (Thomas Lennon) and pushy mother (Linda Lavin). Keep an eye out for Smash's Megan Hilty.
Modern Family (returns Sept. 25 on ABC)
There's some speculation that early promos for the fifth season of Modern Family suggest there's a wedding on the horizon. Now that Prop. 8 has been struck down in California, could it finally be time for Mitch and Cam to tie the knot?
Glee (returns Sept. 26 on Fox)
The once beloved musical comedy has struggled to maintain consistency, but still manages to occasionally hit some spectacular high points (notably while exploring their New York-based characters). This season, we'll see Kurt and Blaine's relationship continue to develop, while guest star Demi Lovato plays a love interest for Santana. Actor Alex Newell, who plays transgender teen Unique, has been promoted to a series regular.
Grey's Anatomy (returns Sept. 26 on ABC)
Since hooking up back in season five, Arizona and Callie have been a fan-favorite couple on this soapy medical drama, now entering its tenth season. This fall they'll be subjected to the same kind of dramatic dysfunction that plagues all the romantic pairings at Grey Sloan Memorial as they deal with the fallout from Arizona's affair.
Two and a Half Men (returns Sept. 26 on CBS)
Amber Tamblyn (Joan of Arcadia) is joining the cast as the long-lost, lesbian daughter of Charlie Sheen's late character, Charlie Harper. With original half-man Angus T. Jones not returning as a series regular, it's not yet clear if the lesbian character is intended to be the new "half man" (but we sure hope not).
The Carrie Diaries (returns Oct. 25 on the CW)
In addition to the continued exploration of young Walt (Brendan Dooling)'s coming out story, season two of this charming Sex and the City origin story will introduce us to a young Samantha Jones (and possibily a young Stanford Blatch). 
Jersey Strong (premieres Sept. 14 on Pivot)
We were incredibly impressed with new network Pivot's brilliant comedy Please Like Me, so we have high hopes for this reality series which features a lesbian couple raising two college-aged children.
RuPaul's Drag Race: The Lost Season Ru-Vealed (premieres Sept. 30 on Logo)
Not only has Drag Race effectively satirized reality competition tropes, but it's done it without letting cynicism rob the show of its heart. Now that it's become such a phenomenon, revisit its simpler (and much more low-budget) origin.
Which LGBT characters and personalities will you be tuning in for this fall?