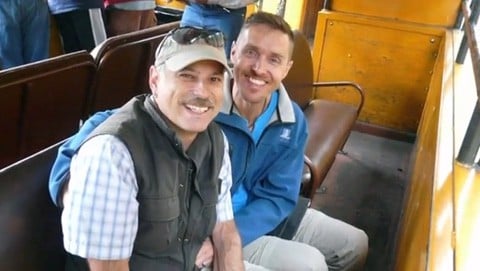 Standard Parking apologized to a gay couple who were told to move to the back of the airport shuttle last month after the driver spotted them holding hands. Ron McCoy and his partner, Chris Bowers had just flown in from Portland, Oregon for Albuquerque New Mexico's Pride Festival last month when the incident took place.
A release from the company reads:
"We sincerely apologize to Mr. Bowers and Mr. McCoy for any disrespectful treatment they received in New Mexico. Standard Parking respects the equal rights of all customers, and we do not condone or tolerate discrimination of any kind against any of our customers or employees, whether relating to sexual orientation, gender, age, race, nationality or religion.
The employee in question was suspended immediately upon our learning of the incident in early July, and we required that he and our entire transportation staff repeat our sensitivity training protocol. This unfortunate incident reinforces our commitment to emphasizing employee sensitivity training throughout our organization. Again, our sincere apologies to Mr. Bowers and Mr. McCoy."
WNKU adds:
Officials from the city and its airport have called the driver's actions unacceptable.
"This does not reflect Albuquerque, New Mexico. And as the mayor I'm upset about it and we want to make sure we get to the bottom of it," Albuquerque Mayor Richard Berry told KOB TV 4 yesterday.
Berry has asked the city's human rights office to look into the incident. The state's chapter of the American Civil Liberties Union has also expressed interest in the case, according to multiple reports.
Despite the apology, McCoy says he isn't entirely convinced that Standard Parking made the statement in earnest.
"In some ways it makes me feel like what they really regret is the attention they're getting," he told KATU.