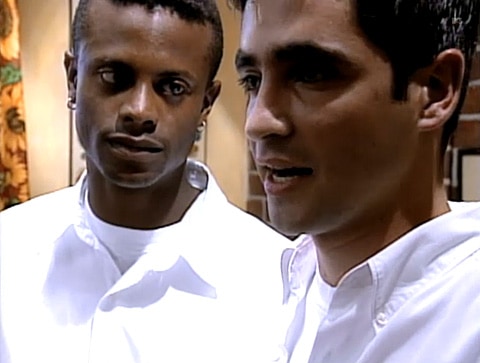 Sean Sasser (left), the AIDS activist whose 1994 on-screen marriage to Pedro Zamora shortly before Zamora's death was groundbreaking in giving a face to gay relationships and those living with HIV, has died. Sasser was 44.
Judd Winick, one of Zamora's friends and fellow cast members, announced his death on Tuesday night on Twitter, writing, "Our friend Sean Sasser has died. Our love goes out to his family & husband Michael. We will miss u so much."
According to his life partner, Michael Kaplan, Sasser died of mesothelioma, a rare cancer of the lungs. No other information was released immediately about his medical condition, but mesothelioma has been linked to a weakened immune system in some people with AIDS.
Sasser may not be familiar to people who did not see his episodes of The Real World, and he did not live his life in the limelight after the show. But his one brief turn in front of the cameras was enough to make a major impact. Long before Ellen or Will & Grace showcased gay people on TV living mainstream lives, and before the magic of protease inhibitor "cocktails" turned HIV into a manageable disease, Sasser gave a brave face to both issues and brought those taboo topics to educate millions of young Americans.
Watch Sean and Pedro's wedding ceremony from the San Francisco season of The Real World (begins about halfway through) and a 1996 interview with Sasser, AFTER THE JUMP…