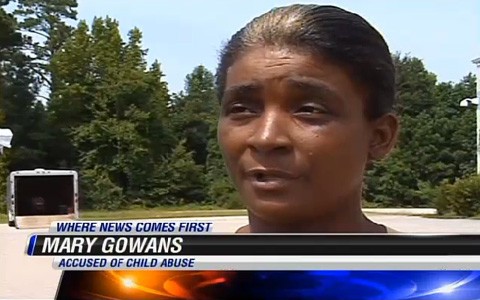 Mary Gowans, a maother in Whiteville, North Carolina, is facing misedemeanor child abuse charges after she directed her 12-year-old son to beat his 15-year-old brother with a belt in order to "beat the gay away", WNEM reports:
According to the report, a 15-year-old said his mother, Mary Gowans, had his 12-year-old brother strike him repeatedly, and he was not allowed to fight back. She then reportedly made the teen strip down to his underwear, and proceeded to strike him with a belt across his body.
Police say there was a large abrasion on the 15-year-old's back.
Gowans, however, says the allegations aren't true. She said her son was intoxicated when he reported the incident to police, and that although she doesn't agree with the gay lifestyle, she would never harm her children. According to Gowans, her 15-year-old son has been visiting a gay man, whom she heard had molested him.
Gowans claims she was trying to protect her son by beating him.
Watch, AFTER THE JUMP… WNEM TV 5