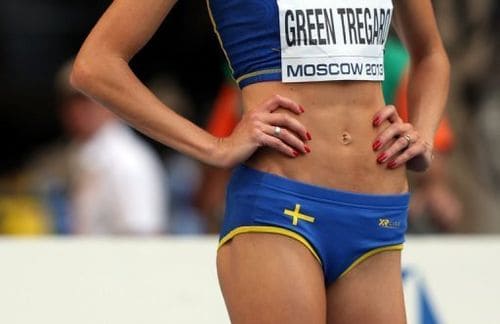 Swedish high jumper Emma Green-Tregaro recently caused quite a stir when she chose to sport rainbow-colored nails at the World Athletics Championships in Moscow. The gesture was later copied by fellow Swedish athlete Moa Hjelmer and condemned by Russian pole vault gold medallist Yelena Isinbayeva. Now, after an "informal" warning from the IAAF, Green-Tregaro no longer sports the same festive-looking nail polish. They've since been repainted completely red. 
Anders Albertsson, general secretary of the Swedish Athletics Federation, confirmed to France 24 that:
"We have been informally approached by the IAAF saying that this is by definition, a breach of the regulations. We have informed our athletes about this. The code of conduct clearly states the rules do not allow any commercial or political statements during the competition."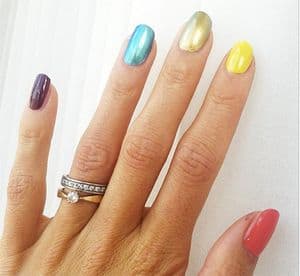 Albertsson claims that he did not pressure Green-Tregaro to repaint her nails, and that she chose to repaint them through her own volition. "If she knows she might be breaking the rules, that's a decision she takes, we don't have any objections on how they paint their fingernails," he said. 
Green-Tregaro also previously posted her rainbow nails on Instagram, in addition to posting a video explaining her gesture of LGBT rights advocacy. As of now, she has not done the same thing for her new nail polish. Nonetheless, she still joins the growing list of athletes who have made displays of LGBT advocacy both on and off of Russian soil. As that list continues to expand, eyes will be glued to Russia as the countdown continues toward the 2014 Winter Olympic Games taking place in SOchi this upcoming February.