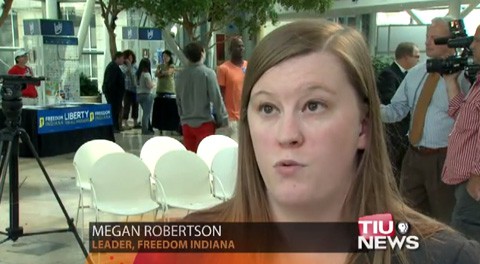 A new LGBT coalition Freedom Indiana kicked off a campaign yesterday opposing efforts to constitutionally ban same-sex marriage in that state, FOX59 reports:
Opponents of a same-sex marriage ban in Indiana are trying to strike a bipartisan tone by hiring a Republican campaign manager who had worked for Mayor Greg Ballard and Rep. Luke Messer, a supporter of the constitutional ban.
Megan Robertson was introduced Wednesday as the campaign manager for Freedom Indiana at the group's campaign kickoff event, held at the Artsgarden in downtown Indianapolis.
"Regardless of your political affiliation most Hoosiers value fairness," said Robertson. "I'm not the only Republican who supports this, I'm just the one that's the most (visible) today."
Officials from Eli Lilly and Cummins were also at Wednesday's rally.
"HJR6 is bad for business and bad for the state of Indiana," said Robert Smith, director of corporate responsibility for Eli Lilly and Company. "We want Indiana to be an attractive place to live and a wonderful place to do business and we want those outside of Indiana to view our state the same way."
Watch two new reports (warning: autoplay), AFTER THE JUMP…
The group has a Facebook page and a petition to defeat the amendment.