Veteran Broadway actress Julie Harris has died, the NYT reports: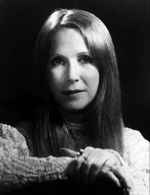 She was 87. The cause was not immediately known, said Francesca James, a longtime friend who was with her when she died.
Ms. Harris had a lengthy, overstuffed résumé as an actress, with dozens of movie and television credits, including the 1955 film adaptation of John Steinbeck's novel of brotherly rivalry, "East of Eden," in which she played the girl who falls for the tormented younger sibling played by James Dean, and nearly eight years in the 1980s as an eccentric country singer on the prime time soap opera "Knots Landing." But perhaps more than any other performer of her era and her elevated stature, she owed her stardom and reputation to the stage.