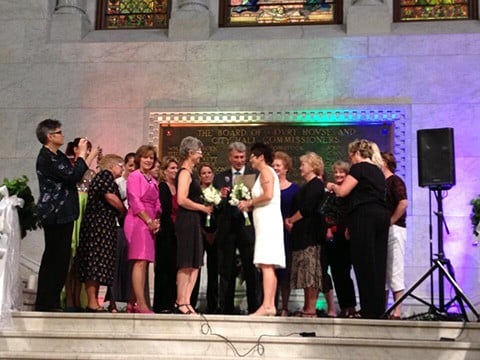 As earlier anticipated, at 12:01 AM this morning same-sex marriage became legal in Minnesota and Rhode Island, upping the number of states where gay couples can be legally wed to 13. According to The Star Tribune, couples in Minneapolis started marrying at city hall just after midnight, with Mayor R.T. Rybak and his staff officiating over 42 weddings. The ceremonies and celebrations went on early into the morning, with food trucks, jitneys and even the local Hotel Minneapolis joining in the merriment of what Governor Mark Dayton declared, "Freedom to Marry Day." Though many Minnesotans remain divided on same-sex marriage, at least one couple hoped that same-sex marriages would help to change the hearts and minds of Minnesotans opposed to marriage equality:
"Our wedding will be about celebration and commitment, but will also be
about sharing our lives to help people better understand how much the
same we all are," said Phil Oxman, who married his partner 38 years
shortly after 1 a.m. in Minneapolis City Hall.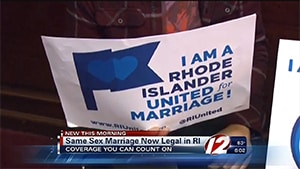 Wedding ceremonies in Rhode Island did not start until after 8:30 AM Thursday morning when local offices opened for business, though some had expected the ceremonies to commence after midnight as they did in Minnesota. Many have speculated that Rhode Island will not experience as big of a "rush to marry" given that it is the last New England state to legalize marriage equality and many same-sex couples in Rhode Island wed out of state in neighboring Connecticut or Massachusetts. Indeed, Rhode Island's new marriage equality law will recognize those out of state marriages as legal and valid thus eliminating many couple's need to seek an additional ceremony. Still, the state saw gay couples waiting outside to make it legal as city halls opened for business. According to Boston.com:
Kent Stetson and Luis Astudillo were among a
handful of couples that came to Providence City Hall first thing to get a
license. They planned to get married later in the day, on a street in
downtown where they took a memorable walk on their first date 12 years
ago.
''We are securing our rights today. We would have been married years ago if we could,'' Stetson said.
In Newport, a couple that have been together
for 41 years, Federico Santi and John Gacher, were previously joined in a
civil union, so they were immediately married after getting their
license. They had no plans for an extravagant ceremony, saying that in
their eyes, their marriage began in August 1972.
''It's certainly not going to
change our lives, but it's going to change the lives of lots of young
people, and that's what we are really proud of: that now they have the
opportunity to get married if they choose to,'' Santi said.
Congratulations to all the happy couples celebrating today!
(Caption photo via Twitter)