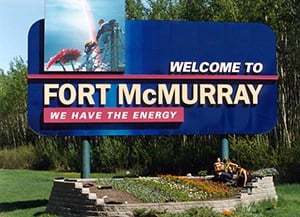 Royal Canadian Mounted Police are investigating the burning of two gay pride flags that took place last weekend at a pride celebration in Fort McMurray, Canada. The pride event in question was the city's first. According to CBC News:
A group of people took the flags from Bailey's Pub around 11 p.m. Saturday and subsequently set fire to them in the parking lot.
Michael Kenny, vice-president of Fort McMurray LGBTQmunity, the group that sponsored the event, called the actions "saddening."
"I think it makes a statement when you take a symbol of the LGBTQ
community here in Fort McMurray, you steal it and then you burn it
outside our venue's main entrance," he said.
"I think you do that because you're
making a statement and you're making a statement that people who
identify as LGBTQ aren't welcome here."
The Calgary Herald also reports that surveillance video from the pub shows the flags in question being stolen but not burned. Though Kenny believes the motives behind the incident to be hate-filled, he does not feel the actions of a few speak for the Fort McMurray community at large. Moreover, he stressed his belief that the flag burnings "will spark a wider public discussion addressing homophobia in the community."