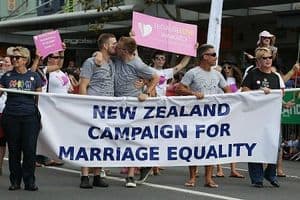 Today marks the first day that marriage equality becomes the law of the land in New Zealand. While it was still technically yesterday evening in the United States, couples such as Natasha Vitali and Melissa Ray have already exchanged vows. Ray and Vitali won their ceremony as part of an all-expenses-paid giveaway on a local radio station, and were the first same-sex couple to be married in the country. Their ceremony took place at 9 AM local time in Auckland, New Zealand's largest city. Lynley Bendall and Ally Wanikau were also among the estimated 31 same-sex couples (according to the Washington Blade) who tied the knot that day. They held their ceremony while on an Air New Zealand flight from Queenstown to Auckland, and had Modern Family star Jesse Tyler Fergueson and husband Justin Mikita among the many witnesses in attendance. 
The newly-adopted marriage equality law came to New Zealand thanks to lesbian Parliamentarian Louisa Wall, who was one of the many in attendance during Vitali and Ray's ceremony in Auckland. She expressed her pride in a statement to the Washinton Blade:
"I feel very proud to have had my marriage equality bill pass through the New Zealand parliamentary process with support from across the House. Today we can celebrate the reality of our law change which allows any two people who love each other, regardless of their sex, sexual orientation or gender identity to commit to one another in the institution of marriage."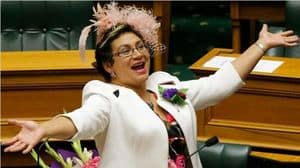 Paul McCarthy and Trent Kandler were also among those who got married earlier today. They also have the distinction of being the first Australian same-sex couple to be married under New Zealand's new law. The Herald Sun predicts that the two men are the first of what will be a "flood" of same-sex Australian couples "expected to travel across the Tasman to exchange vows." Unfortunately, their nuptials won't be recognized in their home nation, so their gesture is more of a symbolic one. However, the two men hope that their symbolic gesture will lead to real change. "Talk to your local candidates, find out what their view is, because this is a chance we have this year to make a difference," Mr McCarthy said."We're normal people, we live in this society…it would be very good if people thought we could be treated equally."
New Zealand is now the 14th nation in the world to legalize marriage equality. Next in line will likely be England and Wales, which recently approved a bill that is anticipated to take effect this upcoming spring.