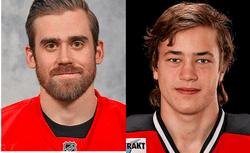 Add two new names to the growing list of athletes speaking out against Russia's ban of 'homosexual propaganda.' Late last week, National Hockey League's Henrik Zetterberg (left) and Victor Hedman (right) blasted the anti-gay law and its anticipated impact on the upcoming 2014 Winter Olympics, Detroit Free Press reports:
Zetterberg, the Detroit Red Wings captain who will likely represent Sweden in the Olympics, reportedly told Swedish tabloid Aftonbladet that the law is 'awful, just awful'
"I think that everyone should be able to be themselves," Zetterberg said. "It's unbelievable that it can be this way in this time, especially in a big country like Russia."
Fellow Swedish player Victor Hedman, who plays for the Tampa Bay Lightning, also had strong things to say about the law: "That's completely wrong, we're all humans. No one should have a say in what way you're sexually oriented."
In recent months, the NHL has taken great strides to demonstrate its committment to LGBT inclusiveness, including a groundbreaking anti-homophobia partnership with the You Can Play Project.