Michigan Attorney General Bill Schuette tells the Petoskey News that he believes marriage is between a man and a woman and he's ready for any challenges to the state's Constitution which defines it that way: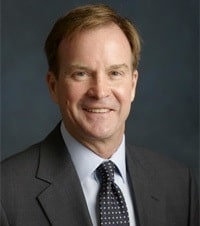 "The real issue is what may or may not happen," Schuette said. "We have this marriage amendment in place. I'm going to defend it and defend it aggressively. I happen to think that is correct."
Since the U.S. Supreme Court ruling was issued in June, there has been speculation about whether a referendum on the marriage amendment could be on the ballot in 2014 or 2016.
The attorney general is currently serving out his first term in office and is expected to seek a second and final four-year term in 2014, which means a repeal of the amendment would force his office to do an about-face on its stance.
Schuette says if voters decide to repeal the marriage amendment in the future, his office will make the legal adjustments necessary.
"I happen to think the amendment adopted by the people was correct, and whether there is amendment that goes a different way in 2014 or 2016 we'll see," Schuette said.
Schuette will be defending the ban on October 1 when the case of April DeBoer and Jayne Rowse, a Detroit couple suing the state of Michigan over its ban on gay adoption who expanded their lawsuit to take on the state's marriage amendment, comes before a judge in federal court.
Michigan lawmakers have also introduced legislation to repeal the state's ban.