San Diego-based Project Pie is set to take over the space once occupied by the gay bar Rawhide on NYC's Eighth Avenue, DNA Info reports: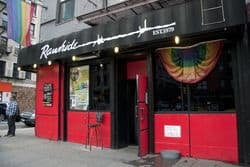 The new tenant plans a "major renovation" on the 2,640-square-foot space, according to Cushman & Wakefield, including the addition of folding glass doors and outdoor seating.
Rawhide was a darkened space with no windows, advertising itself as having "NYC's hottest male dancers every night." The bar will soon reopen at East 58th Street and Third Avenue.
It is one of several longtime Chelsea institutions to close. Gay club Splash is expected to shut its doors later this month, and the nearby Paradise Cafe closed last week.
Towleroad also received some info about Atlas Social Club, the new Hell's Kitchen bar from Josh Wood, Benjamin Maisani, Pablo Raimondi, and Asi Mazar (below) opening in September:
Weekday nights and weekends, A.S.C. will bring a downtown feel to 9th Avenue and 51st Street. Josh
Wood, of Josh Wood Productions, says, 'Atlas Social Club brings downtown uptown. The DJs. The vibe.
The sensibilities. Hell's Kitchen has exploded as a nightlife hub in New York City, but there has not yet been
a bar to bring that cool, edgy, downtown culture to the neighborhood. I'm thrilled to be opening this bar with
three of my closest friends. We created A.S.C. as place for us and our friends to go.' A schedule will be
announced for the fall season focusing on up­and­coming New York DJs with international guest DJ sets.
Benjamin Maisani, who designed the interior together with the team of partners, describes A.S.C. as 'a
cross between a gay speakeasy and a retro athletic club. The decor uses vintage muscle magazines and
turn­of­the­century photographs of various early physical culturists, such as Eugen Sandow, for inspiration.'
Gentleman's club Chesterfield furniture, industrial light fixtures and 1940's boxing/wrestling posters accent
the stylized three­room bar.