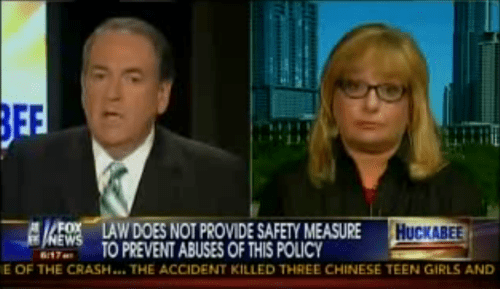 Failed Republican presidential candidate and current Fox News pundit Mike Huckabee recently joined the growing chorus of conservative talking heads that disapprove of California's new legal protections for trans public school students. On last night's episode of Huckabee, the show's eponymous host briefly mentioned the fact that advocates pushed this legislation through in order to better addressed the bullying and harassment faced by trans students. Rather than seize the opportunity to discuss the issue in depth, however, he instead chose to engage in a bit of ignorant banter with guest Karen England of the Capitol Resource Institute. Both took turns spouting many of the same inane counter-arguments already expressed by previous opponents of the new law. 
"I'm having a hard time, thinking back to my school days, that a biological boy going into the girls' restroom would be less subject to being ridiculed and bullied than not," said Huckabee, trying his best to seem sympathetic to the plight of trans students. That was a sufficient set up for England, who claimed that:
"Current law is sufficient. This is very extreme, very radical, that they are going to let boys wake up one day, decide that they're girls, and let them have access to our restrooms and our locker rooms in all of our public schools in California. This is for kindergarteners as well as high schoolers."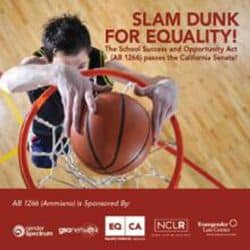 Huckabee jumped in immediately afterward, saying that the new law establishes no standard for how a student can establish their gender identity:
"If the child…a boy…walks in and says 'you know what, I really am feeling my girl's side, he gets to go shower with the girls when he's 14. I mean, I'm just thinking of all the 14-year-old boys I went to school with, and how many of them would have awakened with that revelation." 
Of course, Huckabee is no expert in gender identity issues, and according to Equality Matters, neither is England:
"Her career has been devoted to right-wing politics. If she were familiar with the findings of the American Academy of Pediatrics – which reports that gender identity is generally established by about age four - she may not have been so shocked that the new law 'is for kindergarteners as well as high schoolers.' Moreover, England would also have recognized that boys won't simply "wake up one day [and] decide that they're girls." Not only do scientific findings rebut such claims, they also have no empirical basis. School districts that have enacted similar protections have reported no instances of inappropriate bathroom behavior."
Thus, the familiar "bathroom panic" defense commonly used by a variety of anti-trans activists appears to be nothing more than a red herring. 
Watch the full exchange AFTER THE JUMP…