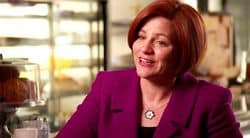 Openly gay New York City mayoral candidate Christine Quinn has received several antigay death threats while on the campaign trail, her wife Kim Catullo revealed in an interview with the New York Daily News yesterday.
"Chris has gotten threats about being gay. It's hard to accept and we live in a place that is the most tolerant," said Catullo, who has lived with Quinn for 12 years and married her last year when New York State legalized same-sex marriage.
"I worry about everything, if she is getting enough rest, is she safe," said Catullo, who did not specify the nature of the threats.
A campaign spokesman confirmed the threats but did not want to elaborate.
Catullo said recent hate crimes against gays in the city – including in the couple's old block in Chelsea – have been sobering. "When you have strides like marriage equality, you tend to think (prejudice) has passed, then things like that happen, and it wakes you up again," she said.