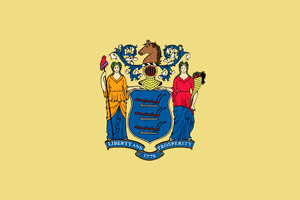 The first major legal test of the effect of Supreme Court's June decision invalidating the Defense of Marriage Act takes place this week, with a New Jersey state judge scheduled to hear oral arguments tomorrow morning in Trenton as to whether the state's decision to offer same-sex couples access to civil unions but not marriages violates both the state and federal constitutions.  CBS New York reports:
A New Jersey court case headed for oral arguments this week is among the first to test what a June U.S. Supreme Court ruling striking down key parts of a law barring federal recognition of same-sex marriage means in states.

The hearing Thursday in Superior Court in Trenton is based on a lawsuit from two years ago, when six couples and their children argued that New Jersey's civil union law didn't fulfill a 2006 state Supreme Court ruling that said gay couples had to have the same legal protections as married couples. The civil union law was intended to give same-sex couples the legal benefits of marriage.
Lambda Legal and Garden State Equality, the LGBT advocacy groups behind the lawsuit, have argued that the end of DOMA's denial of federal marriage benefits to same-sex couples means that New Jersey's civil unions are now inherently unequal to full marriages, since they bar same-sex couples from accessing federal benefits.
Officials for the state of New Jersey, on the other hand, argue that because state law views civil union partners as spouses in a legally equivalent manner to different-sex married couples, civil unions should qualify same-sex couples in New Jersey for federal marital benefits.  Lambda Legal and Garden State Equality, the state officials contend, should be suing the federal government as opposed to the state.
Tomorrow's court hearing will likely focus on whether the judge should issue a summary judgment–that is, a judgment before a full trial–instituting marriage equality in New Jersey.  If the motion for summary judgment is denied, the case will proceed to trial.  Any decision by the court could be challenged in New Jersey's appeals courts or the state Supreme Court.
Last month, New Jersey Senate Democrats announced in a press conference that they plan to hold a vote before the year's end to override Governor Chris Christie's veto of a marriage equality bill that successfully cleared the state legislature last year.  Christie has said that the issue should be put to a vote of the people.