San Diego Mayor Bob Filner apparently isn't to blame for sexually harassing 8 women because the city failed to provide him with proper sexual harassment training.


Matt Damon talks bulking up for Elysium.

Jennifer Lawrence, Bradley Cooper, Robert De Niro, Jeremy Renner, Christian Bale and Amy Adams work it in trailer for David O. Russell's American Hustle.

Dustin Lance Black to pen new semi-autobiographical mini-series about gay rights, Mormonism for ABC: "Details on the miniseries are scarce,
but according to The Hollywood Reporter it is currently in development at
ABC Studios, and will be told from Black's perspective about his life
growing up gay in a Mormon household to becoming a leader in the
lesbian, gay, bisexual and transgender (LGBT) rights movement."

Family Planning Programs Saved Taxpayers $10.5 Billion in 2010.

Cheyenne Jackson splits with husband, sports new tattoos, moustache, cropped-do.

An Israeli man shares his struggle to be a devout Jew and a drag queen.

Check out this wonderful gallery of images from Rhode Island's first day of gay marriage.

Uncle Karl hangs out with their Serene Highnesses, the Grimaldis of Monaco. C'est normal.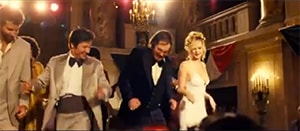 Glenn Beck wants to name streets after Rush Limbaugh: "You have to embed what we are and who we are. Every way you can everywhere you can."

France to get first gay retirement village: "The over-50s "active lifestyle" community
will feature 107 houses in "traditional village style" that will be
separated from other hamlets owned by the Villages Group, a British
company that builds retirement communities in France. Homes will cost
236,000 euros (about $312,000) or 248,000 euros (nearly $328,000), along
with weekly maintenance fees of 70 euros ($92)."