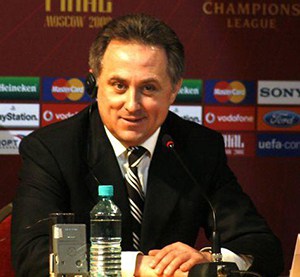 Despite recent assurances from the IOC that LGBT athletes competing at the 2014 Sochi Olympics would not be subject to Russia's anti-gay laws, Russian Sports Minister Vitaly Mutko warned today that athletes and visitors will not be given any special exemptions from the nation's anti-gay propaganda laws that make it a crime to spread "homosexual propaganda" to minors. According to AFP, Mutko remarked:
"The law talks not about banning a non-traditional orientation but
about other things, about propaganda and implicating minors…
"No one is banning a sportsman with a
non-traditional sexual orientation from going to Sochi. But if he goes
out onto the street and starts to make propaganda, then of course he
will be brought to responsibility.
"As a sportsman, he should
respect the law of a country," Mutko added. "Come (to Sochi), but don't
get young people involved, don't make propaganda. This is what we are
talking about."
Mutko's statement comes a day after the U.S. Olympic Committee released a letter recalling the Olympic Charter's prohibition on discrimination of any kind. The letter also promised that the U.S. Olympic Committee would work closely with the IOC and U.S. State Department to ensure the safety of "every American in Sochi." The IOC, which previously secured assurances from "the highest level" of Russian government that LGBT athletes and vistors would be able to attend the Sochi games unmolested, has yet to comment on Mutko's statements. No doubt Mutko's imperative will impact how and if athletes attending the games will protest Russia's anti-gay laws. Previously, out gay speedskater Blake Skjellerup had pledged to wear a rainbow pin at the games to 'stand up for what he believes in.' It is unclear at this time how Mutko's remarks will affect the debate on boycotting Russian products and the games themselves.