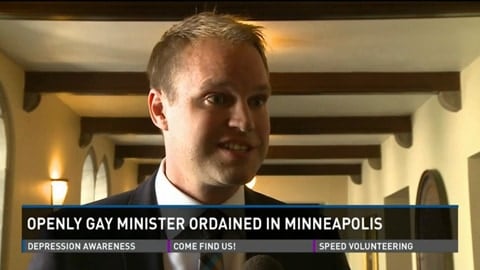 Daniel Vigilante became the first openly gay Presbyterian minister in Minnesota on Saturday, KARE11 reports:
Daniel Vigilante is now the minister of outreach at Trinity Community Church at 28th and Humboldt Avenue. He tried to get ordained 13 years ago, but he had to remove himself from the process because the church wouldn't accept his sexual orientation.
"This is just an enormous step for the Presbyterian Church and such a statement that the church is a place for everyone," he said. "It's inclusive. It's for young and old and gay and straight. Men and women can be a part of it and be in full leadership."
Vigilante is one of just about a dozen gay and lesbian members who have been ordained since 2011 when the Presbyterian Church lifted its ban on gay clergy.
Watch, AFTER THE JUMP…