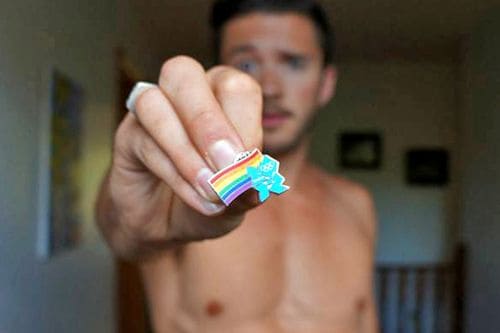 Previously, out speed skater Blake Skjellerup announced that he would wear a rainbow pin to the 2014 Winter Olympic Games in Sochi, despite being threatened with penalties by the IOC and Russian government. Unfortunately for him, though, that means actually qualifying for the Olympics, which is much easier said than done for an unfortunately large number of Olympians. Those not fortunate enough to make their way with sponsorships must pay certain costs out of pocket, such as travel, lodging, food, and so on, not to mention the everyday costs of actual training. When asked by Out magazine what it takes financially to get to the Olympics, Skjellerup replied, "bankruptcy".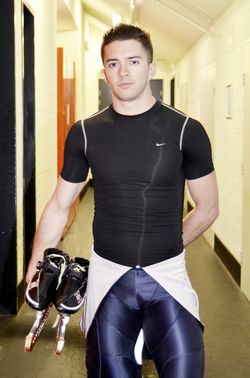 That's why he has taken to Indiegogo to crowdfund his quest to qualify for Sochi. According to the campaign's official page:
"For Blake to qualify for the Winter Olympics in Sochi, Russia, he will need to finish in the top 32 at the World Cups this autumn. These four key events are:

Sept. 26-29, Shanghai, China

Oct. 3-6, Seoul, South Korea

Nov. 7-10, Torino, Italy

Nov. 14-17, Kolomna, Russia"
At a minimum, this means coming up with a minimum of $15,000, which the campaign has luckily already raised. In actuality, however, costs for these events will likely be closer to $33,000, which the campaign has still yet to raise. If you're curious as to why costs for competing are that high, the page breaks down precisely where all that money goes:
"Travel for Blake, his coach and his physio therapist to all four World Cup events. Without our support, he will travel alone — in places like China and Russia — and will not have his coach or physio therapist at any of these crucial World Cup events. Having his support structure with him at these competitions is critical to his success."
"His physio therapist with him for the two weeks leading up to the final two World Cup events. Without our support, he has no physio therapist preparing him for the two races that specifically determine whether he qualifies for the Olympic Games."
"Accommodations closer to the training center in the two weeks before the qualifiers and before the Olympic Games. To cut costs, Blake lives over an hour away from the training center and must take the train every day. Our support will allow him to save over two hours of travel each day before the qualifiers and the Olympic Games and let him focus exclusively on his training."
The campaign has already received support from organizations such as You Can Play project, Outsports, It Gets Better Project, GLAAD, Athlete Ally, Pride House International, Here Media, and the NOH8 campaign. Perks for the Indiegogo campaign include personal thank yous, personal and/or signed photos, private Skype chats, and corporate sponsorship status. 
Watch Blake himself tell you his story and about his Olympic aspirations AFTER THE JUMP.
You can view the Indiegogo campaign and donate HERE.