Back in July, we reported on two Al Qaeda coordinated attacks against alleged homosexuals in south Yemen. News out of the country today indicates that another attack has been carried out, with the victim dead from gunshot wounds.
AFP reports: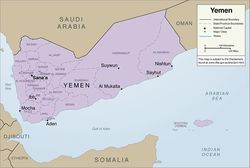 "Armed Al-Qaeda suspects on a motorbike opened fire on 29-year-old Salem Ahmed Hasan in a market in Huta," capital of the southern province of Lahj, the [security] official said, adding the man died immediately.
He said the man was targeted because the attackers thought he was a homosexual.
Another four men have been killed in similar attacks on supposedly 'gay' men in Huta this year.
…
Although weakened, the [Al Qaeda] terror network still carries out hit-and-run attacks against army and police targets.
During their control of areas in southern Yemen, the Islamist militants imposed a strict version of Islamic law on residents, executing or lashing those they accuse of various crimes. Those accused of theft had their hands severed.