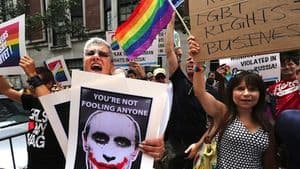 As the situation in Russia gets ever more dire, suggestions on how to effectively protest Putin's Russia have cropped up all over the internet, from civil disobedience to moving the Olympics to a variety of boycotts. Nancy Goldstein at The American Prospect gives an anylsis of the different methods that are being tried and gets to the Achilles' Heel of the Russian government: 
Russian LGBT activists have been saying for some time now that there's no point in aiming at so small a target as the Kremlin's heart, especially when its wallet presents a larger, more tender object. 
The Stoli boycott is evidently proving to be more effective than some would believe, and a Change.org petition asking Coca-Cola, Panasonic, Samsung, Procter & Gamble, and Visa to pull their sponsorship from the Olympics has received over 100,000 signatures. Meanwhile, gay rights activists in New York collected over 340,000 signatures urging world leaders to help eliminate anti-gay laws in Russia that they delivered to the Russian U.N. ambassador at his residence. The important thing is that whatever is done, it must impede Putin's war against homosexuals beyond the Sochi Olympics.