Russian Sports Minister Vitaly Mutko, who earlier this month told reporters to "calm down" about the upcoming Olympic games and that country's ant-gay propaganda law, alluded to reporters at press conference today that gays and lesbians are similar to people who abuse drugs and alcohol.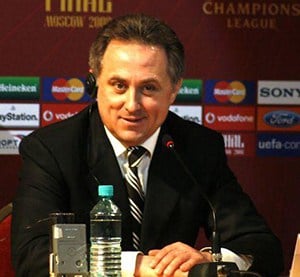 According to AFP, said Mutki about the law:
"It is to protect them against drinking, drugs and non-traditional sexual relationships. This law is all about protecting the rights of children and not to deprive anyone of anything."
Mutko also vaguely insisted that gays and lesbians who take part in the Sochi games will be "protected."
"I repeat again this law does not deprive anyone of their rights. I
haven't heard of one incident here. This is an invented problem. We
don't have a ban on non-traditional relationships. This law is about
protection of the young generation whose psyche has not yet been
formulated and formed and before they have reached maturity."
He also claimed that the media has fabricated the recent controversy surrounding Russia's anti-gay law:
"I think the Western mass media focus on this law much more than we do in Russia," he said at the end of championships press conference. "The athletes who compete in the Winter Olympics will be granted all rights as they were here in Moscow."
As for those athletes, you may recall Mutko said, just several weeks ago, that "if (an athlete) goes out onto the street and starts to make propaganda, then of course he will be brought to responsibility."