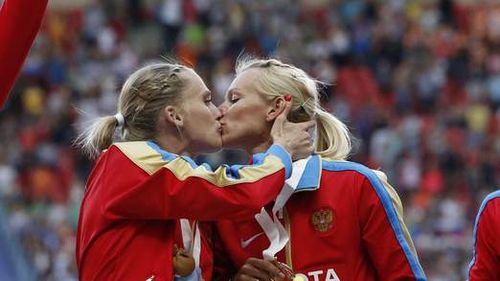 Was it a protest or simply an innocent display of affection between teammates?
That's the question being asked around the world at present. Here's what we do know. Shortly after winning gold in the women's 4×400 meter relay at the World Athletics Championships on Saturday, Russian track athletes Kseniya Ryzhova and Tatyana Firova celebrated their victory with a full on, girl-on-girl lip lock. They then kissed again at the subsequent medal ceremony. Neither athlete has released a statement explaining the gesture, leaving all of us across the web speculating as to whether the kiss was a political gesture, an innocent gesture of affection between friends, or a possible expression of a deeper love. 
Russian sports minister Vitaly Mutko told members of the press that "I think this is kind of an invented problem."
"We don't have a law banning non-traditional sexual relations, we have a different law. It is the informational protection of the young generation. We want to prevent the young generation, whose psyche has not been formulated. We want to protect them against drunkenness, drugs and non-traditional sexual relations. We want them to grow up and when they become adults they have to define what they want."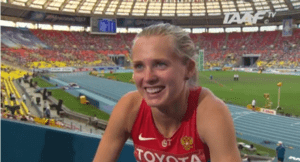 Nevertheless, whether the gesture was innocent or not, Gay Star News notes that Ryzhova and Firova's PDA could land them a conviction under Russia's anti-gay "propaganda" law. Russian officials have not given any indication that they intend to arrest the athletes. That said, Russian officials have made it clear that the propaganda law will be enforced during sporting events such as these. 
This is not, by any means, the first instance of gay-related controversy at the World Athletics Championships. Previously, one Swedish athlete caused a stir with her rainbow-colored nail polish, prompting one copy-cay and one vocally anti-gay expression of disapproval. Also, American runner Nick Symmonds spoke out against Russia's anti-gay laws at the international tournament, becoming the first athlete to do so while on Russian soil.