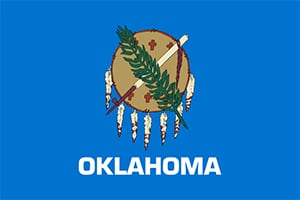 The battle for marriage equality has begun to escalate in the Sooner State, following the Supreme Court's gutting of section 3 of DOMA in United States v. Windsor, according to The Oklahoman. A 2004 challenge to the state's ban on same-sex marriage has been in a holding pattern for over a year while the federal court in Tulsa waited for the outcome of several high profile gay marriage cases including Holingsowrth v. Perry and United States v. Windsor. The couples who first brought the suit, Mary Bishop and Sharon Baldwin and Susan Barton and Gay Phillips, are challenging not only Oklahoma's ban on same-sex marriage but also a crucial part of DOMA not addressed in the Supreme Court's recent landmark ruling, the section that "allows states not to recognize gay marriages performed in other states."
Via The Oklahoman:
The high court's decision last month in a gay marriage case "provides
clear and explicit guidance for concluding Oklahoma's marriage ban
violates both (the couple's) fundamental right to marry, and the
exercise of liberties inherent in such fundamental right," according to a
legal brief filed Monday in the case…
Don Holladay, the attorney representing the couples, filed a motion
urging [U.S. District Judge Terence Kern] to render a final judgment in regard to the provision of the
Defense of Marriage Act struck down by the Supreme Court.
However, the Justice Department, despite having stopped defending DOMA in Court, has asked to respond to Holladay's motion and Judge Kern has given the DOJ until Aug. 23 to submit their response. In his petition Holladay has also asked that the reasoning used by the Supreme Court in overturning section 3 of DOMA, primarily that it violated due process and equal protection, should be applied in deciding whether to overturn Oklahoma's state-wide ban on gay marriage:
"Only a constitutional removal of Oklahoma's marriage ban … will
provide same-sex couples in Oklahoma all the federal benefits and
responsibilities that are available now in 13 states and the District of
Columbia."
An overturn of Oklahoma's ban on gay marriage would come as a coup just months after the state's House of Representatives held a vote affirming marriage as being between one man and one woman, causing half of the House's Democrats to walk from the floor.