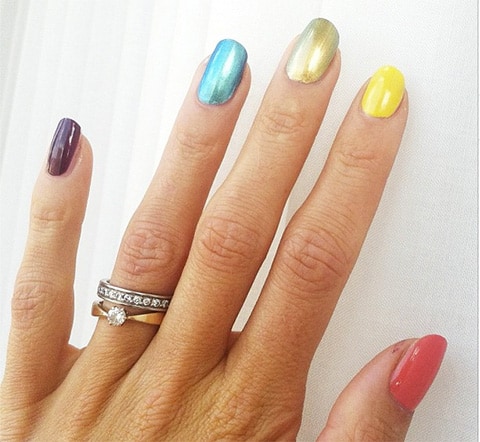 Controversy has erupted at the World Athletic Championships in Moscow over Swedish high-jumper Emma Green Tregaro's nails, which she painted in rainbow colors to show support for LGBT people in Russia suffering under the country's harsh and prohibitive anti-gay laws. Those laws forbid the dissemination of "propaganda" that promotes "non-traditional" sexual practices to minors. Though vague, many believe the laws can and will be construed to punish shows of support for LGBT rights such as the donning of pins, ribbons, or even painting one's nails.
Though Green Tregaro was not arrested for her "advocacy," her display of solidarity comes just days after the IOC announced it would not allow similar displays of support at the Sochi Olympics.
Green Tregaro shared a picture of her newly-painted nails to Instagram, using several hashtags including "#pride" and "#moscow2013," according to the AP. Green Tregaro also posted a video explaining her decision to paint her nails in the prideful colors of the rainbow:
"The first thing that happened when I came to Moscow and pulled my curtains aside was that I saw the rainbow and that felt a little ironic," Green Tregaro said in a video posted on the website of Swedish newspaper Expressen. "Then I had a suggestion from a friend on Instagram that maybe I could paint my nails in the colors of the rainbow and that felt like a simple, small thing that maybe could trigger some thoughts."
Fellow Swede Moa Hjelmer also painted her nails in rainbow colors to show LGBT support. They were visible as she ran in the 200-meter heats. However, Green Tregaro's gesture did not sit well with Russian pole-vaulting great and "mayor" of one of the Olympic villages in Sochi, Yelena Isinbayeva. Reuters reports: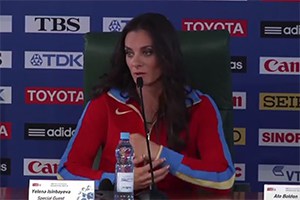 "It's disrespectful to our country, disrespectful to our citizens because we are Russians," Isinbayeva, speaking hesitantly in English, told a news conference.
"Maybe we are different than European people and people from different lands. We have our law which everyone has to respect. When we go to different countries, we try to follow their rules. We are not trying to set our rules over there. We are just trying to be respectful.
We are not trying to set our rules over there. We are just trying to be respectful. We consider ourselves, like normal, standard people, we just live boys with women, girls with boys … it comes from the history. I hope the problem won't ruin our Olympic Games in Sochi," added the 31-year-old, who is one of Russia's best known athletes and won her third pole vault world title in front of an enthralled crowd on Tuesday.
American mid-distance runner Nick Symmonds was aghast at Isinbayeva's remarks:
"It blows my mind that a young, so well-educated woman can be so behind with the times," Symmonds told BBC Radio 5 Live.
"Guess what Yelena, a large portion of your citizenship are normal, standard homosexuals…I wanted to compete with a rainbow sticker but was told I would go to prison if I did that. It was suggested that if I pushed this too far it was a real possibility."
Asked what the feeling about the [anti-gay propaganda] law was among the athletes in Moscow, Symmonds said: "It's a very divided subject but from most of what I've seen, this is not an issue for my generation. We believe in equality. There's been a huge shift to equality now being the majority view in America. Here it seems the majority of people respect this law so you have to respect that in a democracy. But if you are going to host the Sochi Olympics, history will look back and say 'you are on the wrong side of history, Russia'."
Symmonds said he was against a boycott of Sochi but would continue to speak out.
"My aim was to come here and race and try to win a medal for the United States. Having done that, if I can help to advance the cause then that's something I'd like to do."
According to the AP, Symmonds took to his blog on Runners World before the Moscow Championships to show support for LGBT people, understanding the significance of competing in these and the upcoming Sochi Games, adding,
"If I am placed in a race with a Russian athlete, I will shake his hand, thank him for his country's generous hospitality." Then, after beating his opponent badly, he would "silently dedicate the win to my gay and lesbian friends back home. Upon my return, I will then continue to fight for their rights in my beloved democratic union."
Check out a video of Isinbayeva making her remarks AFTER THE JUMP…