An anti-gay Russian parents group is calling on President Vladimir Putin to bring the hammer down on Elton John, Reuters reports: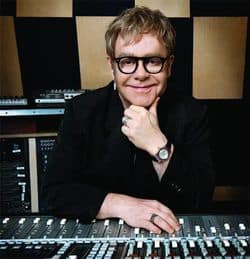 In an open letter to Putin, the local parents' group in central Ural region was reported by media as saying: "The singer intends to come out in support of local sodomites and break the current Russian law, directed at protecting children."
…The parents' committee was unavailable for comment despite repeated phone calls.
Elton recently said that he would go to Russia to perform rather than boycott the country:
"I'm supposed to be going to Moscow in December," he says. "I've got to go. And I've got to think about what I'm going to say very carefully. There's two avenues of thought: do you stop everyone going, ban all the artists coming in from Russia? But then you're really leaving the men and women who are gay and suffering under the anti-gay laws in an isolated situation. As a gay man, I can't leave those people on their own without going over there and supporting them. I don't know what's going to happen, but I've got to go."
He later added that he would rather speak to Russian leaders than attack them from the stage:
"You can make a statement and you can read it from the stage, but it would be nice, and it would be much more fulfilling to try and meet with people in Moscow and say, 'Listen, this is just, you know, this is silly. It's a reactionary knee-jerk thing. It's harming your reputation in the rest of the world. It's not doing you any good. There has to be some discussion here. What you're doing is outrageous.' [Pauses.] They can tell me to go to hell. I've gotta do it diplomatically, but I'm going to say what I think and what I feel."