Arkansas Attorney General Dustin McDaniel has accepted language for a proposed 2014 ballot measure submitted by Arkansans for Equality that would repeal Constitutional Amendment 83, which prohibits same-sex marriage, KARK reports: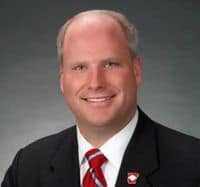 McDaniel issued the opinion Thursday afternoon, which states that the amendment, if passed, would not make same-sex marriage or civil unions legal in the Natural State, but would grant power to the General Assembly to pass laws relating to same-sex marriage.
In the opinion, McDaniel iterates that the purpose of his review and certification is to ensure that the popular name and ballot title "honestly, intelligibly, and fairly set forth the purpose of the proposed amendment or act."
Read McDaniel's opinion here.
McDaniel also remarked on another proposal he said had "deficiencies in the proposal's ballot title and text." That proposal would amend the state's constitution to recognize the marriage of two people regardless of gender.