Donal Smith, the Deputy Mayor of Hamilton, Bermuda, is apologizing from abroad for remarks he made on a television program about gay people last week.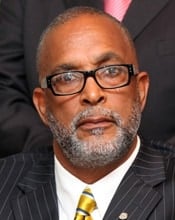 The Bermuda Sun reports:
In a TV interview for the Seventh Day Adventist Church programme 'Issues', the contents of which were subsequently reported by The Royal Gazette, Mr Smith had likened gays to "freaks" and their behaviour to that of "dogs" and suggested those who support gay marriage are condemned.
Now, Smith is apologizing after controversy over his remarks has brewed for five days, the Royal Gazette reports:
Speaking from Colombia, where he is attending an international conference of mayors, Mr Smith told ZBM News: "I am overseas on Corporation of Hamilton business and I haven't been able to hear from those persons that were hurt by my comment as I would have heard from if I was at home, okay?
"However, I have heard directly from my family members and friends who have impressed upon me the level of anguish and pain that my comments caused. To all those persons who were affected in this way, I would like to offer my apologies, yeah? In addition, when I return I will speak to my constituents and hear their views of my comments."
Mr Smith, who is expected to return to Bermuda by the end of the week, ducked questions about his resignation, saying that he would address that issue "at another time".