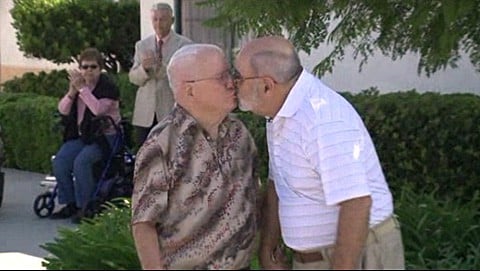 John Banvard, a 95-year-old World War II veteran married his partner, 67-year-old Gerard Nadeau, a Vietnam veteran at the Chula Vista Veteran's Home on Thursday. It was the facility's first gay wedding, FOX5 San Diego reports:
"We were waiting on the Supreme Court to make that decision," said Banvard.
Many of the couple's friends who live at the veteran's home attended the small and simple ceremony."The world is changing, we have to go along with it," said one guest. 
Facility director Neal Asper said news of two men getting married at the VA home wasn't well received by everyone. A town hall meeting was held at the VA home to address concerns from other residents."It's been somewhat controversial," said Asper. "I told them, they have the right to get married here just like everybody else."
One resident told Fox5 he didn't agree with Banvard and Nadeau's celebration of their love for each other, but supported their legal right to do so.
Watch (warning: autoplay), AFTER THE JUMP…