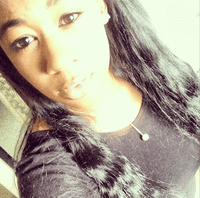 Last week, Michael Jordan's 20-year-old daughter, Jasmine, used her Instagram to respond to rumors surrounding her sexual orientation, which began to circulate after she posted a photo (below) of her in an intimate hug with another woman.
Gossip blogs have speculated
that the other woman in the picture is Jasmine's girlfriend, Carmen, a
player on the Syracuse University women's basketball team.
Jasmine, the daughter of the former Chicago Bulls star and his ex-wife Juanita Vanoy, is not ready to discuss her sexuality yet, however. She writes, on Instagram:
"Until Love, Trust, Honesty, Respect, Loyalty, Commitment, Genuine Happiness and other characteristics or aspects I want in a relationship is defined by one gender then and only then will I discuss my sexual preference."