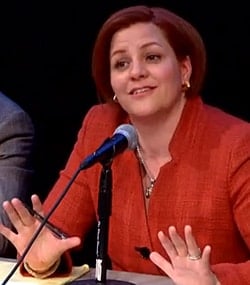 Christine Quinn lost in dramatic fashion in yesterday's New York City Democratic primary. She is an out lesbian, with a record of accomplishment. By virtue of her position as City Council Speaker, sometimes those accomplishments involveed working with Mayor Mike Bloomberg, who was almost universally disliked among Democratic primary voters in the City (though certainly not disliked by all Democrats, in general). Ms. Quinn would have been the first woman and first member of the LGBT community to run NYC. She had also been the front runner for 11 of the 12 months preceding the election. Unfortunately, only the last day matters.
How did this happen?
The evidence suggests that this election represents the best and worst of the political side of the gay community. First, the worst. Our collective liberalism can, at times, be self-defeating: the liberal purity coming from the mouths of anti-Quinn LGBTs reminded me of the conservative purity of the Tea Party. Yesterday, we "ate our own," some are saying.
But, did we?
Now, the best. Ms. Quinn would have been a great Democratic nominee and a great mayor. But yesterday's election proved that being a woman or being gay is not enough for voters to gloss over certain policy and personality deficits they have with a candidate. And that's a sign of remarkable progress.
In a world where the LGBT community is under attack, hated, victimized and alone, we have to look to our own. In that case, when one candidate wants to suppress us and the other one is us, identity matters. When you're given a choice between a free trip to Mykonos and a two-night stay in a Moscow prison, you choose Mykonos. Plus, the symbolic value for women and gays of having Ms. Quinn helm this city would have been unmistakable and enormous. But the symbolism was not enough. When the choice is between Maui, Hawaii and Bali, Indonesia, the decision is tougher. When the choice is between a 100-percent pro-LGBT equality candidate and a 100-percent pro-LGBT equality who actually happens to be gay, other things — their policies on stop-and-frisk, their personalities, their campaign tactics, their plans to raise (or lower) taxes — become more important.
That's what happened yesterday. The newly minted Democratic nominee for NYC Mayor, Bill De Blasio, is an amiable, pro-equality (and very tall!) man who will be an ally to the LGBT and HIV-positive communities in New York. Ms. Quinn could not capitalize on her identity because, in 2013 in New York City, identity doesn't matter. She needed to do more to prove to voters that she was the best candidate, not just the one that looked like them.
As a community, we have arrived. Ms. Quinn's campaign missed the boat.
CONTINUED, AFTER THE JUMP…
According to preliminary data, large numbers of women and gays deserted Ms. Quinn. The New York Times reported on exit polling showing that 39% of women voters went for Mr. De Blasio, with only 16% going for Quinn. White women chose De Blasio over Quinn 36% to 26%. Black women barely even considered voting for the only female candidate, with nearly half voting for De Blasio and only 6% pulling the lever for Quinn. Hispanic women chose De Blasio in slightly less dramatic, but no less significant fashion.
Even more notable, 47% of voters who identified as gay chose Mr. De Blasio, only 34% chose Ms. Quinn.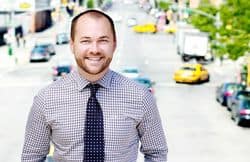 I can add some meat to these numbers. For much of the day, I was out by the LGBT Center encouraging people to vote for my friend — and ultimate winner — Corey Johnson. Johnson trounced his opponent, the openly gay Yetta Kurland, by a 2 to 1 margin despite Ms. Kurland's misleading, negative and nasty campaign.
That campaign can tell us a lot about LGBT progress and self-defeatism. Mr. Johnson had a solid, progressive record as a community activist and Chair of Community Board 4 and a remarkable personal narrative that brought nearly 2/3 of voters to his side. Ms. Kurland had little in the way of Corey's experience, so she opted for misleading smear campaigns and negative campaigning. She baselessly and consistently attacked Corey for fabricated connections to real estate developers. She even accused him, and his campaign manager R.J. Jordan, of assaulting someone in a building stairwell. Anyone who knows Corey and R.J. knew that was a lie.
Negative campaigning is always a shame. Negative campaigning within our own community is worse. My idealism and political naivete prefer that the LGBT community show a united front for our greater battles. Ms. Kurland dropped any facade of affinity alliance and attacked Corey like many desperate, losing candidates have in the past. In a way, that's progress. In another very real way, however, it shows how quick some of us are to "eat our own."
That same tension between progress and division was evident in voter views of Ms. Quinn.
"I don't care that she's gay," one gay man told me, referring to Ms. Quinn. "I vote for Corey and for De Blasio. She won't end stop-and-frisk."
"She's in Bloomberg's pocket. She didn't do anything to stop the condos," a lesbian told me. (Real estate development is a big issue in New York City because some argue that middle class families are being priced out.).
"She's not progressive enough for me. She's basically Bloomberg in a dress," an elderly woman snapped. "Corey's great. I don't need to vote for a woman. I need to vote for someone good, someone … " she paused, "… someone who's gonna be a real liberal Democrat."
I have to say this woman was awesome. Dressed in a fiery red pants suit and sharp and witty like my grandmother was, she captured what I think was the best and worst of our community's voters yesterday.
She displayed an admirable, though troubling ideological purity that can damage winning coalitions. Time and again, voters claimed that Ms. Quinn was insufficiently liberal based on some truth and some wild mischaracterizations. Ms. Quinn's campaign should have framed the debate better, gotten out ahead of her opponents who painted her portrait for the voters. But even if Ms. Quinn were truly not liberal enough, purity is risky. Republicans in Nevada, Indiana, Missouri and Delaware know this well, and it is not beyond the pale that De Blasio's Republican opponent, the Giuliani acolyte and capable administrator Joe Lhota, could paint a picture of De Blasio as a wacky liberal extremist. Don't forget: New York has elected Republicans to Gracie Mansion for 20 years!
But, again, we see the silver lining to our community's apparent ideological purity in the mayoral primary. Identity didn't matter. We have the luxury of demanding more from our candidates because there are no longer any (Democratic) candidates in a place like New York that oppose LGBT equality.
We have to be careful about taking this silver lining too far, however. Identity may not matter to gays and women in New York too much, but the symbol to the rest of the country and the world of having an openly gay woman at the helm of New York City would have been unmistakable and extraordinary. We are still fighting tough battles in purple and red states. We need more LGBT elected officials, public role models and leaders. We cannot be cavalier about that.
For all her qualifications and skills, Ms. Quinn was a victim of a lot of things: ideology, voter dissatisfaction with Bloomberg, her position, her reactive campaign, and so on. But she was also a victim of progress.
***
Follow me on Twitter: @ariezrawaldman
Ari Ezra Waldman is the Associate Director of the Institute for Information Law and Policy and a professor at New York Law School and is concurrently getting his PhD at Columbia University in New York City. He is a 2002 graduate of Harvard College and a 2005 graduate of Harvard Law School. Ari writes weekly posts on law and various LGBT issues.