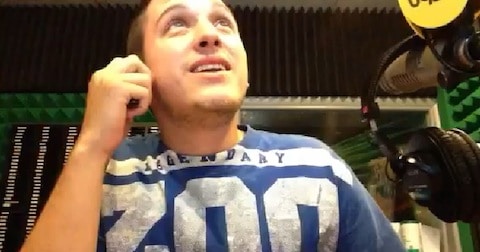 The host of Artimis Radio on 92.9 FM in Indiana had no idea that playing Macklemore's "Same Love" would cause such a fuss, but one listener named "Craig" completely flipped out, calling the station time after time after time to rant about the station promoting their "homosexuals and gay tendencies" after Craig's own son had him listen to the song.
The host finally had enough of the caller and decided to record the conversation between the both of them. As to be expected, Craig is a devout "God-fearing man" who says that "Jesus hates gays" and seems to have missed the fact that his son might be trying to tell him something. When the host points out that America is the land of the free, Craig responds that he needs to be free of gays. After Craig rants repeatedly about how he'll never listen to the station ever again, the DJ tells him,
Please, please, please promise me that you'll never listen to this station again, and that you'll never call in again because, honestly, I could probably talk to the GM and owner here and they probably don't want you to listen to the station ever again.
You can watch the video AFTER THE JUMP…