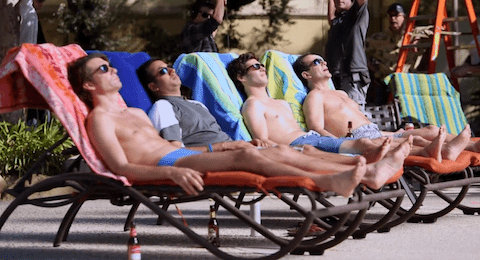 With the fall TV season just around the corner, it's time to clear the Law and Order: SVU reruns you amassed over the summer off your DVR and get ready to program some new series. 
If you haven't been keeping up with the trailers and early reviews, we've rounded up some picks for the strongest contenders to earn your TiVo's coveted season pass, as well as a few that aren't worth the time.  
More, AFTER THE JUMP…
Five to See:
Masters of Sex
Premieres Sept. 29 on Showtime
The story of pioneer human sexuality researchers William H. Masters and Virginia E. Johnson gets a stylish retelling starring Michael Sheen (Frost/Nixon, The Queen) and Lizzy Caplan (Mean Girls, Party Down) in what's sure to be a sexy Showtime original. There's no plan yet to tackle the duo's later dubious work around gay conversion therapy, but the series will touch on homosexuality throughout its first season. 
The Blacklist
Premieres Sept. 23 on NBC
James Spader stars as one of the FBI's most-wanted fugitives working alongside the feds to stop criminals and terrorists. Spader's twisted performance is reason enough to give this one a shot, but its longterm success depends on maintaining the tension waiting for his character's true agenda to be revealed.
Brooklyn Nine-Nine
Premieres Sept. 17 on FOX
Your typical cop show gets a twist of M*A*S*H-style comedy in this new show starring SNL-alum Andy Samberg. If you're not a fan of Samberg's brand of hipster humor, tune in for a promising supporting cast, including Andre Braugher, Terry Crews and Chelsea Peretti.
Marvel's Agents of S.H.I.E.L.D.
Premieres Sept. 24 on ABC
Bringing his signature wit and geek-chic cool to this action-packed series, Joss Whedon will attempt to bridge his Marvel films (including the wildly successful The Avengers) with network TV. There's plenty of buzz around the show's strong pilot, but we'll see if this small-screen outing can continue to shine without some of the heavy-hitting star power of its big-screen companions.
The Michael J. Fox Show
Premieres Sept. 26 on NBC
Early previews of Michael J. Fox's return to a starring TV role show some promising self-aware humor. However, this one could easily lose viewers with too much pathos. Breaking Bad's Betsy Brandt helps round out the cast, with recently announced recurring actors Charles Grodin and Candice Bergen portraying Fox' parents.
Five to Skip:
Dads
Premieres Sept. 17 on FOX
Seth MacFarlane's usual sophomoric schtick comes to a live-action television program as Seth Green and Giovanni Ribisi deal with their fathers (played by Peter Riegert and Martin Mull, respectively).
We Are Men
Premieres Sept. 30 on CBS
Dude humor abounds as four three single men (played by Kal Penn, Jerry O'Connell and Tony Shalhoub) attempt to help a recently single addition to their short-term housing complex adjust to his new life.
The Millers
Premieres Oct. 3, on CBS
We're not sure what Will Arnett did to deserve such terrible TV luck, but this may be his worst outing yet. Margo Martindale, who has been garnering so much praise for her work on The Americans, shouldn't be forced to wallow in this low-brow schlock.
Super Fun Night
Premieres Oct. 2 on ABC
Rebel Wilson is stripped of all her charm (and her accent!) for the sake of some pretty weak material.
Reign
Premieres Oct. 17 on the CW
It's a teen drama take on Mary, Queen of Scots, with a score featuring contemporary bands like Mumford and Sons. Maybe that's your thing, but we prefer our period pieces more Downton Abbey and less Sofia Coppola's Marie Antoinette.
Special Mention:
Sean Saves the World
Premieres Oct. 3 on NBC
On the one hand, this is the new network show with the most prominent LGBT character (not to mention one played by an openly gay actor). On the other hand, it looks terribly dated and clichéd. It's worth keeping an eye on to see how they handle Sean's sexuality, but don't expect a ton of smarts behind the laughs.
Which new shows are you most excited for?