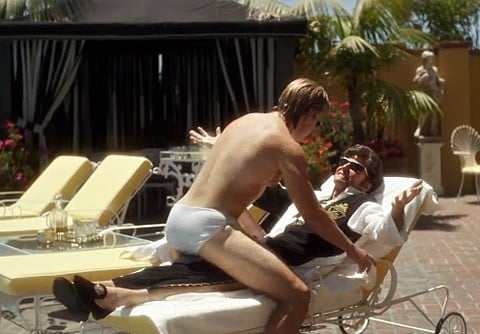 Even the most staid awards shows have a few tricks up their sleeves, and this year's Primetime Emmy Awards are no different. Before you tune in to Sunday's broadcast (8 p.m. Eastern on CBS), check out these five ways in which this year's ceremony, hosted by Neil Patrick Harris, may surprise you.
More, AFTER THE JUMP…

The Netflix Effect
This is the first year that Netflix original programming is eligible for the Emmys, and it's the biggest shake-up the awards have experienced since cable networks entered the race. The online video provider's best bets for wins are House of Cards for Outstanding Drama and Kevin Spacey (House of Cards) for Lead Actor, Drama.

Beloved First-Time Winners
Repeat nominees like Jon Hamm (Mad Men), Amy Poehler (Parks and Recreation), Jesse Tyler Ferguson (Modern Family), Louis C.K. (Louie) and the tragically under-recognized Jane Krakowski (30 Rock) could capture their first Emmy awards in acting categories. Meanwhile, first-time nominee Kerry Washington is a strong contender in her category (Lead Actress, Drama) for her work as Olivia Pope in ABC's popular primetime soap, Scandal.

Reality-Competition and Variety Upsets
Since the Outstanding Reality-Competition Program category was introduced in 2003, The Amazing Race has won nine times. This could be the year the consistently good So You Think You Can Dance gets the credit it deserves, or maybe celebrity-studded The Voice could unseat the globetrotting veteran. And, although we love 10-time winner The Daily Show, it's time The Colbert Report gets a little Outstanding Variety Series love.
A Candelabra Celebration
The Liberace biopic Behind the Candelabra is a favorite to win the prize for Outstanding Miniseries or Movie, and its lead actors, Michael Douglas and Matt Damon are facing off for Outstanding Actor, Miniseries or Movie. Additionally, Elton John will be performing a tribute to Liberace as part of the broadcast. No word yet if there will be an appearance from Rob Lowe's freaky face from the film.

An Exceptionally Emotional 'In Memoriam'
The tragic deaths of James Gandolfini (The Sopranos) and Cory Monteith (Glee) will hang heavy over this year's telecast when the actors are honored by co-stars Edie Falco and Jane Lynch in an expanded 'In Memoriam' segment. Sunday's broadcast will also include tributes to Jean Stapleton (All In the Family), Family Ties producer Gary David Goldberg and Jonathan Winters (Mork & Mindy) delivered by Rob Reiner, Michael J. Fox and Robin Williams, respectively.
What do you hope to see at the Emmy Awards on Sunday?